Toxic makeup: top 10 ingredients to avoid in cosmetics
Date Posted:14 October 2021
---
Makeup and cosmetics are notorious for containing lots of harsh chemicals and, in som cases, toxic ones too. Whether you wear makeup daily or just occasionally, it's important to know which makeup ingredients you should avoid and which brands you can trust. Use this guide to help you shop for safe and natural makeup that works.
What are the toxic ingredients to avoid in makeup?
Cosmetics often have long lists of ingredients that we don't read, recognise or stop to research. You might be surprised just how many toxic ingredients or chemicals could be hiding in everyday makeup products like foundation, compact powders and eye makeup. Here are the top ten, most common harmful makeup ingredients that you should look out for when shopping for makeup:

Talc
You can find talc in various makeup products like blushes, eye shadows and setting powders. Talc is used for its moisture-absorbing properties. While studies have shown talc to be safe, there is still concerns about its potential to be contaminated with asbestos. Asbestos and talc are both natural minerals that occur closely together in the earth. Asbestos, however, has been linked to cancer and other health risks. If you want to err on the side of caution, avoid talc in your makeup products, especially if the brand isn't clear about where they source talc and can't guarantee its purity.

Triclosan
Triclosan may be present in some cosmetics that reduce bacteria contamination, such as toothpaste, antibacterial soaps and body washes. High levels of triclosan have been linked to the disruption of hormones and antibiotic resistance. Some makeup ingredients might include reducing the risk of bacterial contamination in the product. While many manufacturers avoid this contentious ingredient it is still good to double check the label for it when browsing for makeup.

Lead
Eye makeup that uses kohl (kajal, surma, al-Kahal) could also contain levels of lead. Lead is poisonous and banned for use in most countries.

Phthalates
Phthalates can cause unbalanced hormones, particularly those that work alongside estrogen, like testosterone. For this reason, phthalates have been linked to breast cancer. You can sometimes found them in nail polishes and hair sprays as well as fragrances in cosmetics.

Parabens
Parabens can affect estrogen levels and have therefore been linked to certain types of breast cancer. The research on this is still being done. Parabens can be found in many different makeup products and can be listed as methylparaben, propylparaben, ethylparaben and butylparaben.

Fragrance
As innocent as it might sound on an ingredients list, 'fragrance' can actually refer to a whole concoction of chemicals. Companies list 'fragrance' because they aren't required to disclose the chemicals that make up that fragrance. Many of the chemicals in fragrance are irritating on people's skin and have been linked to allergies and asthma. There's usually no need for fragrance in cosmetics, so it's best to avoid it.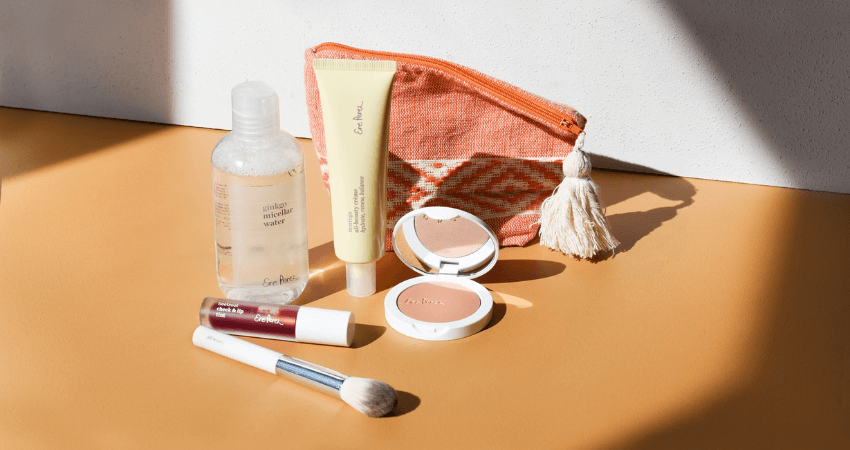 Petroleum distillates
Petroleum distillates are produced in oil refineries (yes the ones that make fuel for cars and energy). They can be found in mascara and have been linked to cancer in some studies. They're also often irritating, which isn't ideal for a product that's used on the already sensitive eye area. There are lots of natural mascaras that avoid petroleum-derived ingredients, so we suggest sticking to those instead.

BHA and BHT
BHA (butylated hydroxyanisole) and BHT (butylated hydroxytoluene) are synthetic antioxidants that are used in lipsticks and moisturizers for their preservative qualities. Both BHA and BHT can cause allergic. Reactions on the skin and have been listed in certain countries as possible human carcinogens (cancer-causing).

Siloxanes
Siloxanes are silicone-based compounds that are used in cosmetics to soften and smooth the formula. They can be found in makeup products like primer and liquid foundation. Siloxanes have been linked to endocrine/hormone disruption and environmental damage due to the run-off of these chemicals in our drain water.

Formaldehyde-Releasing Preservatives
You likely won't find formaldehyde in your makeup but there are a few chemicals that might release formaldehyde over time. Formaldehyde is known to cause skin sensitivity, allergic reactions and, in some cases, has been linked to cancer. To avoid it, look out for: DMDM, Bronopol, Methenamine and Diazolidinyl urea.

How do you know if ingredients are toxic?
When you read an ingredients list on cosmetics, it's almost always full of things you don't recognise. This makes it hard to know what is actually dangerous and what is simply a scientific name for an ingredient. The best way to know if an ingredient is toxic is to research it or to stay aware of what the common toxic ingredients in makeup are. The easier option, however, is to shop with brands and retailers like Sassy Organics that you can trust only use ingredients that are safe or only stokc products and brands that are safe.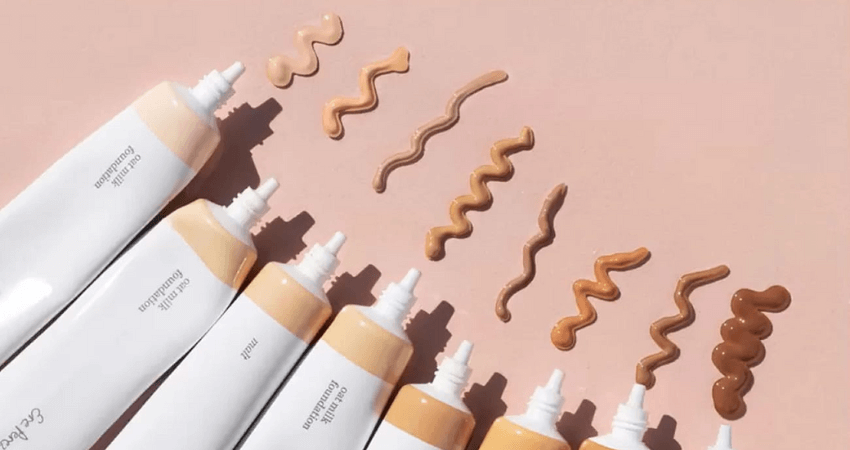 Which makeup brand is safest?
At this point, you might be wondering which makeup brand is safest, or safe at all. At Sassy Organics, there are a few makeup brands that we always recommend to those that want natural, organic or vegan makeup that actually works.
Ere Perez Natural Cosmetics is a clean beauty brand that was founded in Bondi Beach, Sydney in 2002. Ere Perez makeup is ethical, natural, vegan and cruelty-free; it combines science with the power of plants and botanicals. If you're looking for a foundation that is safe and chemical-free, then we suggest checking out the Ere Perez foundation range. The Ere Perez Oat Milk Foundation is great as it's hydrating and easy to apply but gives a lovely even finish with medium to full coverage. Ere Perez Oat Milk Foundation comes in eight shades and is packed with skin-loving ingredients like oat milk and vitamin E. You can also enjoy natural and safe eye makeup with Ere Perez. The Chamomile eye palettes are great for creating day-to-night eye makeup looks, without talc and other harsh ingredients.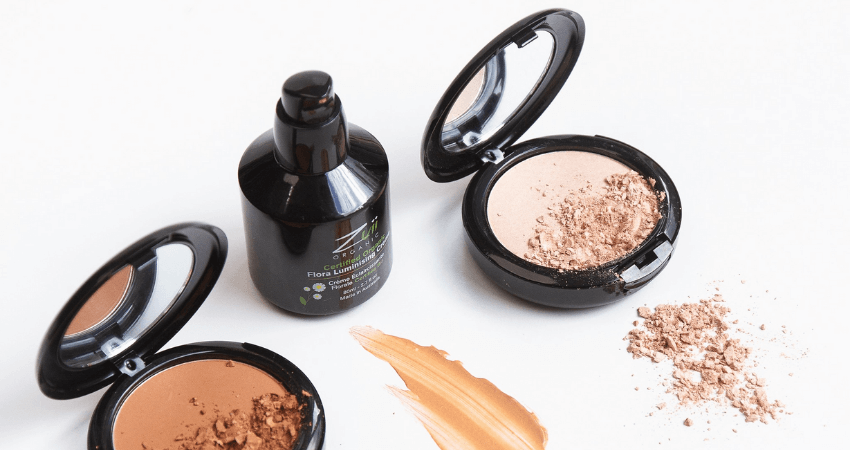 Zuii Organic is another top brand for natural and safe makeup. Zuii Organic is an Australian brand that embraces nature with its certified organic makeup products and commitment to only using pure natural and botanical ingredients. If you're a makeup lover then both Zuii Organic and Ere Perez are for you, as both create studio-worthy makeup that's as good if not better quality than conventional cosmetics – all without the nasties. Zuii Organic is a great natural and organic makeup brand to start with as their range is complete with everything you need. Zuii Organic primer makeup is one of our top picks for getting the best coverage and finish from your foundation. Primer makeup helps to prepare the skin for foundation application – providing a better canvas for the foundation to go on top of. Using primer makeup underneath your foundation can help prolong the wear time of your makeup and the overall finish.
Many people who like to use chemical-free and organic makeup tend to enjoy products that aren't too heavy on the skin – natural in their ingredients and finish. For this, we always recommend choosing a bb cream instead of a liquid or powder foundation. BB cream combines skincare with makeup pigment for an all-in-one that works like a moisturiser to improve your skin but also like foundation to even and soften its appearance. Hanami Cosmetics and Wotnot Naturals are both great brands if you like to wear BB cream.
Choosing a safe and chemical-free makeup remover is just as important when it comes to a safe makeup routine. A makeup remover is a solution that actively breaks down makeup on the skin. You can find liquid makeup removers, physical makeup removing sponges or solid makeup remover bars. We always recommend using a makeup remover and then following up with a natural cleanser. We suggest Zuii Organic's Certified Organic Makeup Remover, Wotnot Wipes or the Acure Micellar Water.
What about makeup brushes?
Makeup brushes are an essential part of any makeup collection or routine. At Sassy Organics, we only stock cruelty-free, vegan-friendly makeup brushes that use high-quality synthetic fibres for the bristles. The main concern with makeup brushes is that they can get dirty with continued use. Dirty makeup brushes can not only cause your makeup to look cakey, but can clog your pores, cause breakouts to irritate your skin and, in some cases, cause infection – especially in the eye area. It's recommended you wash your makeup brushes at least every ten days. You can use a face cleanser or special makeup brushes cleaner.
RECOMMENDED PRODUCTS
---