Guide to natural & cruelty free makeup
Date Posted:7 January 2018
---
Is natural makeup cruelty-free? And if your makeup has the cruelty free logo on it, does that mean it must be natural as well? Navigating the world of natural, cruelty-free and organic makeup can be difficult. That's why we've put together this guide to help you
What is natural makeup?
Natural makeup, the way we're using it here, refers to makeup products that are free from chemicals, toxins and parabens. Natural makeup is cosmetics that are made with plant-based ingredients and without adding nasties. Natural makeup is actively good for your skin as it tends to contain lots of nourishing plant-based ingredients like plant oils and flower extracts. Conventional cosmetic products are notorious for using a whole range of filler ingredients and sometimes even dangerous ingredients like triclosan, petroleum, SLS and sometimes even lead. When shopping for natural makeup, you'll want to be careful of misleading labels. We always recommend flipping the packaging over and having a look at the ingredients list. If it's got a huge list of ingredients and you don't know what most of them are then it's probably safe to say that's not a natural makeup product.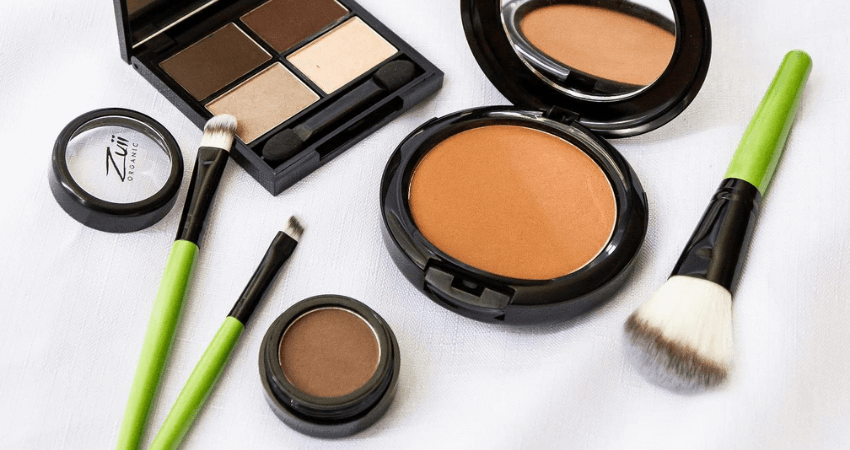 What is cruelty-free makeup?
Cruelty-free tends to mean 'not tested on animals'. To be cruelty-free a product and its ingredients can't have been tested on an animal to see if they are safe for human use. Nowadays, there are many innovative and highly effective lab tests that can be done without the use of animals that ensure your cruelty-free makeup is more than safe to use. Some of the most common cruelty-free certifications include the PETA cruelty-free bunny, the Choose Cruelty-Free bunny and the Vegan Society flower.
You might think that cruelty-free makeup is automatically vegan. While that would make sense, it's not always the case. A cruelty-free makeup brand might still use animal-derived ingredients in its formulas. It can take some time and research to find out if a product or brand is both cruelty-free and vegan, especially if they don't have a logo for both. The easiest way to cut out that research is to shop the Sassy Organics cruelty-free makeup and cruelty-free skincare range. We ensure all the brands and products at Sassy Organics are both cruelty-free and vegan. Otherwise, look for logos that ensure a product is both cruelty-free and vegan. PETA has a cruelty free and vegan bunny logo, The Vegan Society logo and the Certified Vegan by Vegan.org also mean a product is both vegan and cruelty free
Vegan makeup brushes
Any cruelty-free makeup collection needs a set of vegan makeup brushes. You might not know but most makeup brushes are made using animal fur. The production of animal fur involves keeping animals in tight cages and poor conditions. Luckily, you can still enjoy quality makeup brushes without the use of animal fur. Synthetic hair and bristles work just as well at dispersing liquid and powder makeup products. We love Ere Perez for vegan makeup brushes for natural eye makeup. And we love Zuii Organic's range of vegan makeup brushes for face makeup.
Why choose organic makeup?
Many people like to choose organic makeup when they can. The difference between natural and organic makeup is how the ingredients are farmed. For an ingredient to be organic, it has to have been farmed in certain conditions – without pesticides or other chemicals. Organic makeup is makeup that only uses ingredients grown in organic farming conditions. Many people prefer to use it as they feel it is safer for their skin and better for the environment. That said, choosing natural makeup that isn't organic or certified organic is still very safe for your skin.
One makeup product you might like to choose organic is lipstick. Considering it's easy for lipstick to enter our bodies, organic lipstick that's also natural is a great option. Choosing conventional, chemical-based lipstick means you're likely to let those chemicals go straight into your body. you put on your lips. Aside from organic lipstick, you might want to think about vegan lipstick? You might be surprised to know that most lipsticks aren't vegan as they contain beeswax and/or Carmine – a red colourant made by crushing bugs. At Sassy Organics, we stock a range of vegan lipsticks including highly pigmented HANAMI vegan lipsticks and beautiful matt finish NEEK vegan lipsticks. They are both packed with nourishing natural and organic ingredients without beeswax and animal testing.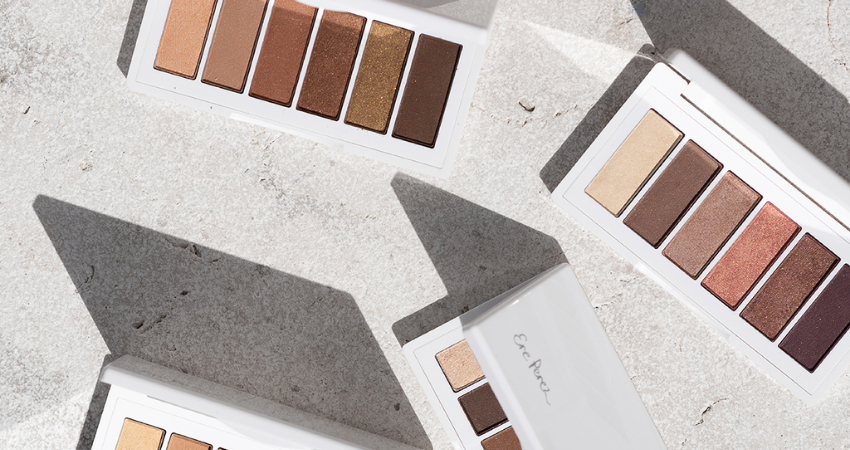 What about talc-free makeup?
Talc is a natural compound that is mined from the ground and consists of magnesium, silicon, hydrogen and oxygen. Before the 1970s mined talc was often contaminated with asbestos. In makeup, talc is used to dilute pigment and absorb moisture in the form of a 'setting powder'. Many people like to avoid talk due to studies or case studies that have linked the substance to adverse health reactions. The particle size of talc is very small, which means it's easily inhaled and can reach the lungs if you are using a loose makeup powder containing talc. Zuii Organic produces 100% talc-free makeup and is suitable for all skin types including sensitive skin. Their range of setting powders are effective and infused with skin-nourishing plant extracts. Not only are you using talc-free setting powder, but you're also using flower-full setting powder that actively improves your skin as you wear it.

Makeup for sensitive skin
If you have skin that is prone to reactions, choosing organic makeup is the way to go. Eczema prone skin can be particularly aggravated by creams containing fragrance, eye shadow and makeup remover. Choosing a natural makeup remover for sensitive skin is the best option if you are highly reactive. Go natural right down to the last ingredient, including natural eye shadow, organic or natural makeup primer and even organic eyeliner and all-natural mascara.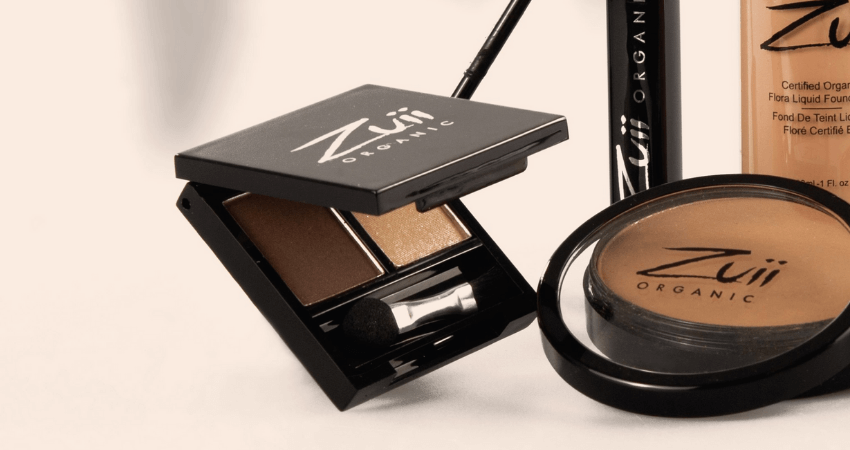 If you are ready to make the switch to non-toxic makeup, our range has some of the best cruelty-free makeup brands in Australia. Zuii Organic has a beautiful range of certified organic natural makeup. Containing real flowers, they not only smell delicious but also feel divine on your skin along with being highly nourishing. All Zuii Organic powder products are made using real certified organic flower petals of rose, jasmine and chamomile to create a uniquely soft nourishing and healing powder base. As such, they are suitable and recommended for sensitive skin.
Ere Perez is another popular brand of natural makeup. Ere Perez was one of the first brands to introduce clean makeup and beauty to the Australian market. Using science and the power of plants and botanicals, Ere Perez creates innovative makeup for those seeking minimal, ethical and healthy beauty. Ere Perez formulas contain unique superfood ingredients that actively improve not the look of your skin, not only through coverage but through active skincare.

The best natural eye makeup
Looking for the best natural eye makeup? This is our go-to selection of products for a natural eye makeup look that is as kind on the eyes as it is to them. Our eye area is super sensitive, which is why it's important we use only natural makeup and gentle products. We recommend adding a pop of shadow to the eye with either a Zuii Organic single eyeshadow of choice or one of the Ere Perez eyeshadow palettes. Next, you can line your eyes with the Ere Perez Jojoba Eye Pencil and follow with the Zuii Organic Vegan Mascara. If you want to fill or tame your brows then we can't recommend the eyebrow mascara from Ere Perez enough. This eyebrow mascara fills in and tames your eyebrows for a more defined look. Plus it nourishes your eyebrows, which encourages them to grow thicker and fuller.
RECOMMENDED PRODUCTS
---