A guide to vegan beauty essentials
Date Posted:15 July 2021
---
Whether you are strictly vegan in all aspects of your life, or simply choose cruelty-free beauty products, there are a few vegan beauty essentials you should know about. Use this vegan skincare and beauty essentials guide to understand what these phrases mean, how to shop for vegan and cruelty-free products, and our top recommendations to get you started.
What does vegan skincare and makeup mean?
Still wondering: what is vegan skincare? With so many different labels and ways to describe products, it can be confusing to know what everything means. But, put simply, vegan skincare is essentially any skincare or personal care product that contains no animal-derived ingredients Animal-derived ingredients include beeswax, lanolin (wool grease), squalene (shark liver oil), carmine (crushed-up beetles), gelatine (cow or pig bones and tendons) – essentially any ingredient that is extracted, secreted or otherwise made from an animal. You might hear the phrase 'animal by products' used a lot in the vegan dialogue. These can also be classed as 'animal-derived as they are still the result of using animals in the production process. Honey, milk, and eggs are all common animal by-products. Vegan skincare is skincare that uses plant-based ingredients. Meaning they're derived from plant matter, such as trees, flowers, bushes et cetera. You might also be wondering: is vegan skincare better. There are many reasons vegan skincare is better than non-vegan skincare. Firstly, by not using animal-derived ingredients, vegan skincare significantly reduces the cruelty and suffering of our furry friends. But more than that, using plant-based ingredients is usually less resource-intensive and damaging to the environment. Another reason good quality, natural vegan skincare is better for you and your skin is that it contains natural, plant-based ingredients that are safe to put on your skin. That said, vegan skincare can include synthetic, lab-made ingredients that are chemical-based. That's why it's important to read ingredients lists even when you see a 'vegan' label, as 'vegan' products can still contain harsh, man-made chemicals or fillers.
What does cruelty-free mean?
Now that you understand vegan skincare, it's time to understand what cruelty-free means. Cruelty-free is synonymous with 'not tested on animals.' Meaning, that product, and its ingredients have not been tested on an animal to see if they are safe for human use. Nowadays, there are many innovative and highly effective lab tests that can be done without the use of animals that ensure your cruelty-free products are more than safe to use on your hair and skin. One thing to be careful of when shopping for cruelty-free skincare is that a product can claim to be cruelty-free if the final product was not tested on animals, but the ingredients that went into it were. Therefore, it's important to research a brand or look for a recognised accreditation. Some of the most common cruelty-free certifications include the PETA cruelty-free bunny, the Choose Cruelty-Free bunny and the Vegan Society flower.
When you're shopping for cruelty-free skincare or cruelty-free makeup, you'd probably think that all those brands and products are also vegan. While that would make sense, it's not always the case. A cruelty-free skincare brand might still use animal-derived ingredients in its formulas; just like a vegan skincare brand might test its ingredients or products on animals. It can take some time and research to find out if a product or brand is both cruelty-free and vegan, especially if they don't have a logo for both. The easiest way to cut out that research is to shop the Sassy Organics cruelty-free makeup and cruelty-free skincare range. We ensure all the brands and products at Sassy Organics are both cruelty-free and vegan. Otherwise, look for logos that ensure a product is both cruelty-free and vegan. PETA has a cruelty free and vegan bunny logo, The Vegan Society logo and the Certified Vegan by Vegan.org also mean a product is both vegan and cruelty free
Natural vegan skincare essentials
So, you're ready to get started on your vegan skincare journey but have no idea what the best brands and products are. The good news is there are lots of great vegan and cruelty-free skincare brands out there – with more and more brands switching to vegan and cruelty-free all the time. Just remember, when not shopping the already well researched Sassy Organics range, double-check a product's ingredients list for nasty chemicals and animal ingredients and check with them if you're not sure whether they test on animals. With that said, here are five vegan skincare essentials to get you started on your journey.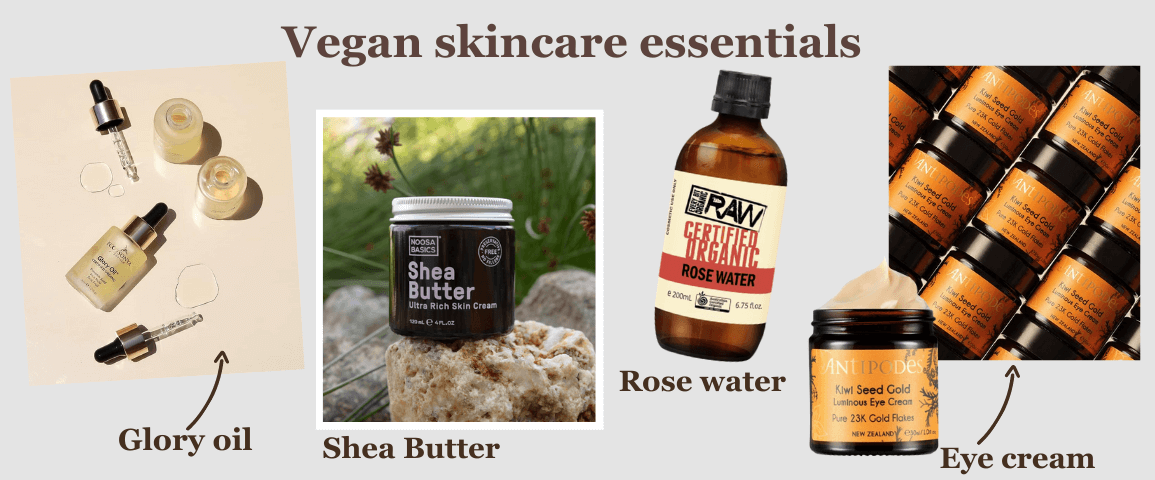 Vegan makeup essentials
Now you're practically a vegan skincare guru, it's time to talk all things vegan makeup essentials. Vegan makeup can be hard to come across as a lot of common makeup products like eyeshadows and lipsticks use animal ingredients for colourings or smooth textures. It's even harder to find all-natural vegan makeup. Our essentials list, and our full vegan makeup range, will get you started with natural, vegan makeup that works.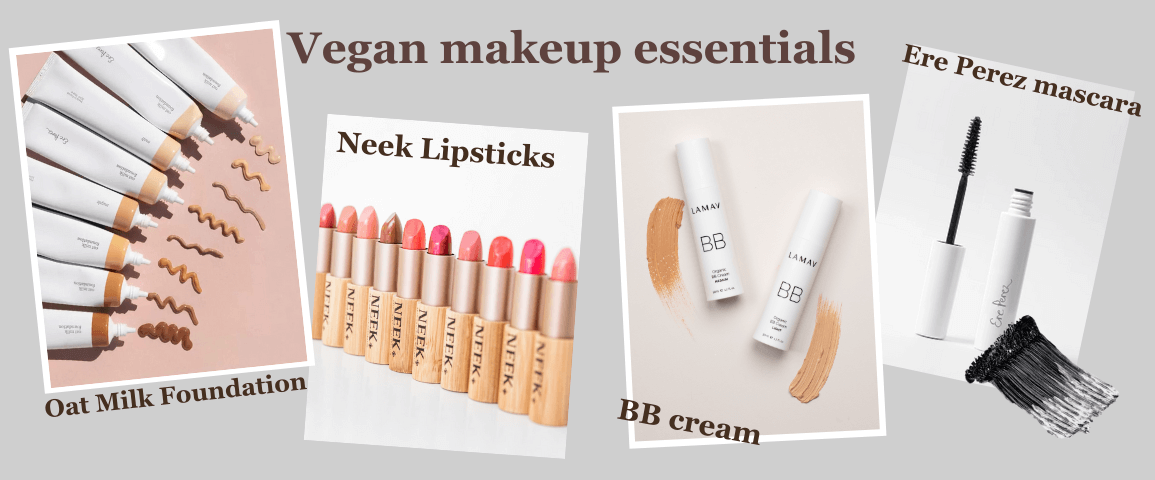 Vegan perfume essentials
One of the trickiest products to find when adopting a vegan or cruelty-free lifestyle is perfume. Many perfumes on the market contain extremely harsh chemicals and synthetic ingredients that are often tested on animals and/or animal-derived. Phthalates and synthetic fragrances are known to negatively impact health, in particular causing disruptions to the endocrine system (glands and hormones). To learn more about synthetic perfumes see our earlier post Natural perfumes vs. synthetic perfumes.
Vanessa Megan is one of Australia's leading organic, vegan and natural skincare brands with a beautiful range of natural vegan perfumes. Vanessa Megan perfume blends essential and plant-based oils to create uplifting and long-lasting fragrances. The Vanessa Megan Monarch perfume is one of the most-loved fragrances. Vanessa Megan Monarch Perfume combines five exotic essential oils for a truly unique scent of musk and earthy florals. You might want to try Vanessa Megan perfume samples before committing to a full-sized Vanessa Megan perfume. You can purchase any of the Vanessa Megan perfumes in a 10 ml option or you could try the Vanessa Megan 100% natural mini perfume collection – which would make a great gift.
The other popular option for natural and vegan perfumes is to use pure essential oil perfume. Black Chicken Remedies perfumes are essential oil rollers that blend different essential oils to create unique signature scents. Their Epiphany essential oil perfume is a blend of black pepper, oakmoss and petitgrain, which smells like a warm fireplace and seasonal spice. The handy essential oil roller bottles are also great as you can stash them in your purse or bag for a quick fragrance refresh on the go.

Vegan protein powders & supplements
Lasting beauty and good skin start in the kitchen. Nourishing our bodies with highly nutritious foods can help strengthen our hair and nails, and improve our skin. Omegas like omega 3, 6 and 9 are all essential fatty acids that our bodies need to grow our hair and renew our skin cells. Having better internal health will also help regulate our skin's sebum/oil production, which in turn can help solve our skin concerns. And a nutrients-diverse protein will supply your body with amino acids, which are essential for making Keratin – the structural protein found in our skin, hair and nails. A good mix of macro and micro-nutrients will help to keep you feeling, and looking, your best.

RECOMMENDED PRODUCTS
---
---
Leave a comment