5 Reasons to switch to natural cleaning products
Date Posted:9 September 2021
---
Switching to natural cleaning products is a great way to protect your health and keep your home clean. Conventional cleaning products contain lots of harsh chemicals, toxins and fumes that, when inhaled, can damage our internal bodily systems. Natural cleaning products are safe if inhaled and do not cause irritation to the skin. There are many reasons to switch to chemical-free cleaning products, but here are our top five.

1. Non-toxic cleaning products
General household cleaners are known to use heaps of chemicals. Chemical cleaning products can release volatile organic compounds (VOCs) which can damage the air quality in our homes. These known toxins contribute to allergies and asthma along with many other potential illnesses. Children and pregnant women are particularly susceptible to the negative health impacts of chemical cleaning products. If you've ever used a conventional bathroom cleaner, you might've found the fumes gave you a headache or left you feeling light-headed. A natural bathroom cleaner uses plant extracts like eucalyptus to cut through scum, dirt and grime. Opting for natural cleaning products is a much safer option for you and your family. Natural cleaning products tend to use naturally antibacterial ingredients like tea-tree, as well as plant enzymes and essential oils. Something like a chemical kitchen cleaner, for example, can be really dangerous over time. We need to use a kitchen cleaner almost every day to wipe down surfaces and stovetops. Switching to a natural kitchen cleaner is a great way to keep your food-prep area sanitary without the harsh fumes.

2. Home microbiome – yep, it's a thing.
Like the microbiome in our gut, the microbiome in our homes needs to be balanced. There are harmful bacteria such as E.coli, salmonella and listeria that we need to get rid of. But we don't want to remove all the bacteria in our homes. Some bacteria is good and helps our immune systems to remain strong. Just like our body's microbiome, the home needs a good balance of healthy bacteria. Naturel cleaning products create a healthier home microbiome by being gentler and not removing all the good bacteria from our homes. A floor cleaner is one of the strongest cleaning chemicals we will find in our cleaning cupboards. A conventional floor cleaner can leak nasty fumes throughout the house. A natural floor cleaner can remove dirt and stains while leaving your house smelling great – not of chemicals.

3. Why bleach is a dirty word
Bleach-based cleaners can do more harm to your surfaces than good. Bleach kills mould spores on the surface but do not kill the roots underneath, resulting in mould quickly growing back. In the process, you expose your body to fumes and harsh chemicals. On porous surfaces, mould can actually use bleach as a food source and grow back faster and stronger, worsening the problem. Vinegar is more effective at killing mould and it doesn't release the same toxic fumes as bleach. Clove essential oil is also great at sanitising and removing mould spores without disrupting the healthy microbiome of your home. So many toilet cleaners on the market use bleach. Luckily there are plant-based and natural toilet cleaner options out there. The Every Bit Organic toiler cleaner is great as it uses plant enzymes. These break down bacteria and germs without using harsh chemicals.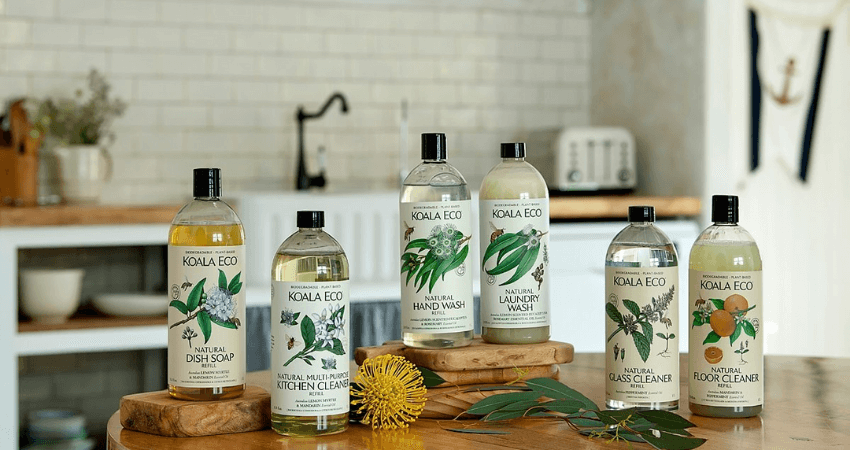 4. Environmentally friendly
Using natural cleaning products doesn't just help your own health, but it also helps our planet's health. Chemical-free cleaning products help the environment by reducing chemicals in your greywater system, which ultimately affect plant and animal life. Packaging is also just as important as the ingredients inside. When we think about laundry liquid, for example, that's a lot of product running off into our draining systems. A natural, safe laundry liquid won't disturb our natural ecosystem. Bottles made from recycled material, refillable bottles and zero-waste packaging also help to reduce plastic waste and pollution.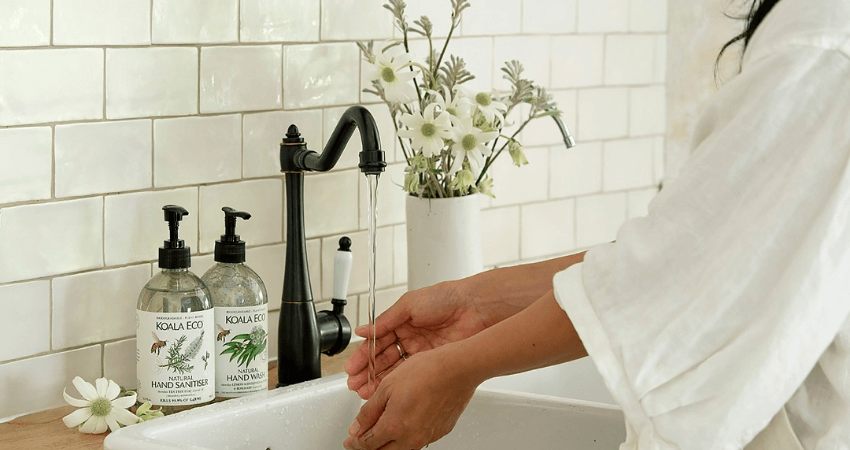 5. Label transparency
Manufacturing laws for cleaning products do not require cleaning products to list all ingredients on the label. Most commercial cleaning products will only list the active ingredients. It can be hard to tell which products contain harmful cleaning substances such as bleach, ammonia, synthetic fragrances and solvents. Natural cleaners have nothing to hide and so all the ingredients are clearly listed on the labels. This means you can be confident in the products you're using.

Our top eco-friendly cleaning products
If you're convinced and want to switch to natural cleaning products, then you'll want to try Koala Eco. Koala Eco is an all-natural cleaning brand. All its products are Australian made and use pure Australian essential oils, botanicals and plant extracts. Without chemicals, Koala Eco crafts effective anti-bacterial cleaning solutions for your whole home including hand washes, lotions and sanitisers. Koala Eco's Australian made products are greywater and septic safe and only uses eco-friendly packaging. Koala Eco's Natural Room Spray is a favourite of ours. it will leave your home smelling like a sunny Australian day.

RECOMMENDED PRODUCTS
---