Top sustainable period products for an eco friendly period
Date Posted:9 July 2021
---
Did you know that a single person who menstruates will use somewhere between 5 and 15 thousand pads and tampons in their lifetime? And these nearly always end up in landfill. Nowadays there are plenty of eco-friendly and safer feminine products, so you can have a more sustainable period.
What's wrong with regular period products
Our skin is not only the largest organ in our body but also the thinnest, which means that anything that comes into contact with it could end up in our bloodstream. Our intimates have some of the most delicate skin on our body, meaning we must be extra careful what products we use on them. While you might assume that the feminine products on the market are all safe to use, this isn't necessarily true. In fact, there is no legal requirement for sanitary pads and tampon manufacturers to disclose what materials are in their feminine products. And although a tampon or pad might feel like just cotton, it's more often made mostly from plastic. You might be surprised to learn that a standard sanitary pad can contain the same amount of plastic as four plastic bags. Environmental concerns aside for a moment, this is a major concern for your health. The chemicals and petrochemicals found in plastic like BPA and BPS have been linked to disrupting embryonic development, heart disease and cancer. Another concern with conventional tampons and sanitary pads is the use of bleach to achieve that pure white look. All these chemicals combined can disrupt your body's natural functioning and your intimate area's delicate PH balance. And that's not to mention the damage that plastic-based tampons and pads do to our environment. So, what's the alternative? Having a sustainable period tends to involve either using reusable period products or cleaner single-use pads and tampons, or a mix of both. Read on to discover what will work best for you.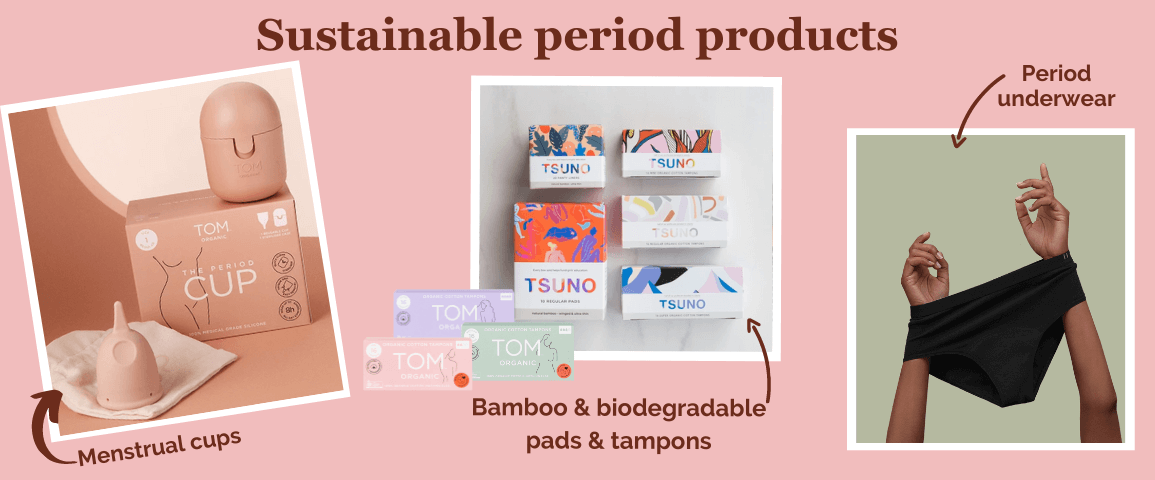 Cotton sanitary pads and tampons
If you want to have a more sustainable period but don't want to try reusable period products yet then choosing tampons and sanitary pads made from more eco-friendly, natural and biodegradable materials is the way to go. We love TOM Organic and Tsuno for their range of natural and biodegradable feminine products. Pure cotton pads and tampons provide natural menstrual protection and absorbency without the nasties of their plastic-filled counterparts. Natural cotton sanitary pads are free from natural substances and are naturally breathable, which is important when it comes to feminine hygiene. Allowing your privates to 'breath' by using natural cotton pads and breathable underwear can help reduce the risk of Thrush, a yeast infection. When it comes to cotton, you may also want to consider organic cotton tampons and pads and look for ones that contain no synthetics or dyes. TOM Organic pads and TOM Tampons don't use any nasty pesticides or chemicals, just biodegradable and organic cotton.
Bamboo sanitary pads and tampons
Bamboo is one of the most sustainable fibres as it takes less water to grow and grows faster than other natural materials. Along with being more biodegradable, are also free of nasty chemicals such as chlorine and dioxin bleach, which I'm sure you will agree you do not want to touch your privates. Bamboo pads are also much softer and more comfortable than the usual plastic nappy feel, so you can feel good about the environment, while also feeling comfy. Tsuno sanitary products are not only natural and biodegradable but also support a good cause, with 50 per cent of the company's profit going towards charities that focus on empowering women with education and menstrual support. Also, the packaging alone is reason enough to try them! Think bright colours and artsy patterns.
Period underwear and period briefs
If you're ready to switch to reusable period products, then a pair of period briefs might be the easiest first step. Period underwear is specifically designed to look and feel like regular underwear but with added absorption for when you're on your monthly bleed. Wondering: how does period underwear work? Using layers of cotton, period underwear combines the absorbency of a sanitary pad with a comfortable brief. Most period underwear will come in a full-brief or bikini cut, but you can find G-string styles for lighter flow days. A period brief can be worn for up to eight hours and can be worn alone or with a menstrual cup and tampon for added peace of mind and absorbency.
If you're looking for period underwear Australia, then you've probably heard of TOM Organic. This sustainable and natural feminine products brand has made their period briefs using a four-layer organic cotton system that wicks moisture and absorbs up to three tampons worth of menstrual fluid. You can shop their period underwear Australia – specifically, the heavy flow brief – here.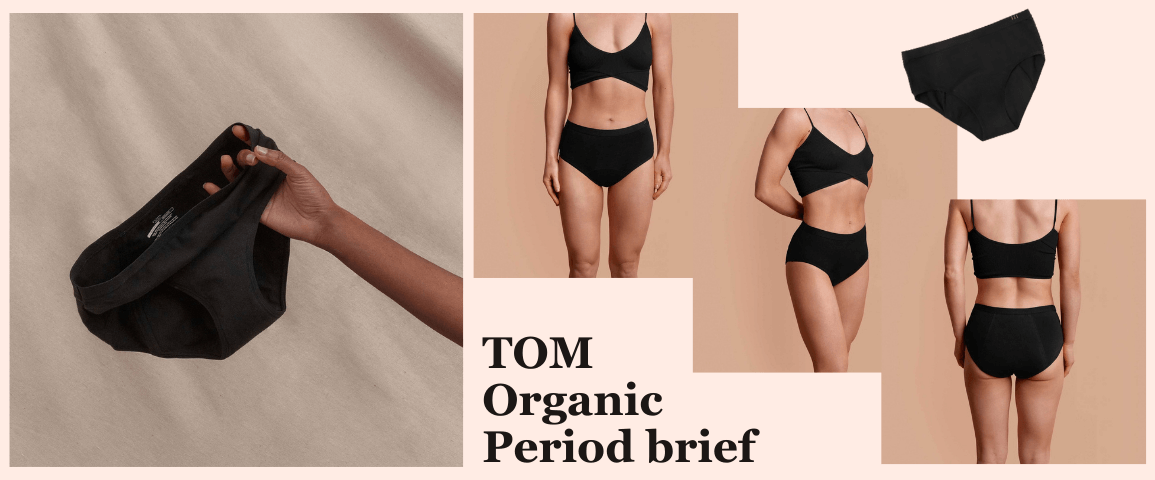 How to wash period underwear
Confused about how to wash period underwear? It's surprisingly simple. Your period underwear should be changed every eight hours or when your flow dictates. After you remove your period underwear, place them in cold water to soak or rinse them under cold water. If machine washing your period underwear, you'll likely want to use a washable mesh bag. It's recommended to wash your period underwear on delicate or gentle settings. If you want to make your period underwear last longer though, you might prefer to handwash them with a mild detergent and warm water. Don't put your period underwear in a dryer, but instead lay them out flat in a warm, dry place near a window, for example, or hang out on the line. If you're worried about stains or linger smells, then you can soak your period underwear in a vinegar-water mixture prior to washing them. But most period briefs are designed to be stain-resistant.
Menstrual cups
Menstrual cups might look intimidating but they're actually simple to use when you get the hang of them. A menstrual cup is a silicone cup that is inserted into the vagina similar to how you would insert a regular tampon. However, a period cup collects menstrual flow rather than absorbing it. A menstrual cup eliminates the need for pads or tampons, reduces waste and helps you save money. While it may sound strange, menstrual cups actually save you from the constant bathroom trips in order to change your sanitary items, as the cups can be worn for up to 8 hours at a time. When the cup is full, simply remove and pour down the toilet, rinse and then reinsert. When choosing a menstrual cup for you be sure to choose the size that is right for your menstrual flow to avoid discomfort or leaks. The best menstrual cup in Australia that we've found is the one from TOM Organics which comes in two sizes and with a sterilising case – how handy?
Reusable pads (Coming Soon to Sassy Organics)
Like menstrual cups, reusable pads benefit the planet along with your wallet. A reusable pad is just like a regular, disposable sanitary pad only it's made from washable cotton and other natural clothing fibres. A reusable pad will last around two-three years, which means they save on the monthly expense of buying new boxes of pads and tampons each month. While the words 'reusable and 'pad' together might have you picturing cut-up rags, modern reusable pads are actually comfortable and even stylish. They're also simple to wash and can be washed just like period underwear – rinse in cool water, place in a bag and machine wash or hand wash instead. If you're keen to use a more sustainable product but the idea of using a menstrual cup is a bit too much, reusable pads offer a comfortable alternative.
Having a healthy, safe and sustainable period is possible when you know what products to look for. Just remember: whether you're going down the better, more eco-friendly disposable feminine products route or choosing the reusable period products route, finding what works for you is always a process of trial and error. So, take your time and only use products you feel safe and comfortable using.
​
RECOMMENDED PRODUCTS
---
---
Leave a comment