The ultimate guide to organic and natural skincare
Date Posted:25 June 2021
---
Labelling can be misleading when it comes to natural and organic products. Many companies will use the words 'natural' and 'organic' as buzz words on their product name or packaging. Some brands will use the word 'organic' as part of their company name, but that's all it is, a name. It doesn't mean they use organic products or abide by a strict code of conduct. You can use the following guide to help you shop for natural and organic products.
The difference between natural and organic skincare
If you're looking to move away from conventional skincare, you're probably looking for organic and natural skincare products. But is there a difference between natural and organic skincare? The short answer: yes. 'Organic' refers mostly to the way the ingredients in a skincare product are farmed and grown. Organic farming is a set of standardised farming practices that involve not using harsh chemicals, pesticides and other nasties in the growing and farming stage. 'Natural' refers more to the type of ingredients in the product. A 'natural' ingredient is one that is derived from a source that occurs naturally in the environment. While this tends to mean plant-based ingredients, be careful as animal-derived ingredients can still be classed as natural. A natural ingredient can also be grown with non-organic farming practices and therefore the final product might contain chemicals and pesticides.
To summarise: an organic product is one that contains ingredients that are grown in organic conditions without pesticides and nasty chemicals. A natural product is one that contains mostly natural ingredients that aren't necessarily grown organically. While an organic skincare product might contain only natural ingredients this isn't always the case and while a natural skincare product might not be organic or certified organic, it doesn't necessarily contain nasty chemicals or pesticides.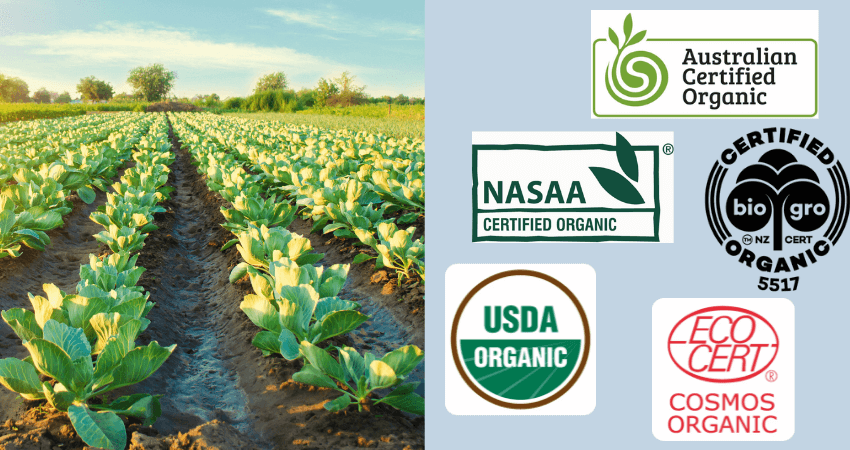 What does organic certification mean?
Okay, so that's organic versus natural skincare explained, but what about the difference between organic and organic certified? When shopping for organic skincare, you have to be careful of misleading labels. To have organic certification Australia and display the certification logo in Australia, a product must adhere to a strict set of rules and regulations. At least 95-100% of the ingredients must be of certified organic origin. This means the ingredients have been grown in a non-genetically modified environment, free from chemicals and pesticides and in an ethical and environmentally sustainable manner. If the product contains between 70-95% organic ingredients, the label can state that the product is made with organic ingredients but cannot display the certified organic logo on the packaging.

Any product with less than 70% organic ingredients cannot claim to be an organic product. But, if a product has been certified as organic, it will have the organic certified logo on its packaging. If you're wondering why organic certification is important consider this: a product can be called organic if it contains at least 1% organic ingredients. Meaning, without strict organic certification Australia guidelines and bodies, brands will be able to (legally) mislead customers. That said, some products will contain a high level of organic ingredients but have not yet secured a logo as the process for certifying is lengthy and costly. Choosing clean, organic and/or organic certified products takes quite a bit of research, which is why we do that boring stuff for you at Sassy Organics. You can trust our range as we only source and stock certified organic products and products with mostly organic ingredients that we know don't contain other nasty fillers or pesticides.

How can I tell if a product is natural?
Natural beauty products can be particularly misleading. For a product to call itself natural, it only has to have 1 naturally derived ingredient. That means it can have 1 natural ingredient, such as a botanical extract, and the rest can be cheap synthetic fillers and chemicals. Price will be a big indicator of how natural a product is. For example, 'natural hand soap 'at the supermarket for $2.99 is most likely going to contain a lot of inexpensive chemical detergent. Scanning the ingredients list is paramount when choosing natural products. There are certain natural ingredients you can look out for and will come across often when shopping for natural skincare. These include:
Plant/fruit/vegetable oils (like argan, jojoba, coconut, hemp, avocado, shea butter)

Naturally-derived Cetaryl Alcohol – although it sounds like a chemical, this common ingredient can be made from coconut oil

Plant-derived Glycerine – but avoid synthetic versions like Propylene glycol and PEG silicone.

Essential oils

Plant, botanical or fruit extracts (like pomegranate, liquorice root)

Tea – often chamomile or green tea

Other key plant ingredients like cocoa, charcoal, Sea Buckthorn, aloe vera
Some common chemicals and synthetic filler ingredients to avoid include:
Parabens – common in shampoos, moisturisers and body lotions

DEA (Diethanolamine), MEA (Monoethanolamide) and TEA (Triethanolamine)

Propylene glycol and PEG silicone

BHT (Butylated Hydroxytoluene)

Formaldehyde – common in hair-strengthening products

Synthetic fragrances – often hundreds of chemicals that manufactures aren't required to list that end up being listed as 'parfum' or 'fragrance'

Triclosan – common in antibacterial products

Ethanolamines – common in mascara and other skincare




The benefits of using organic and/or natural skincare
Considering that our skin is our body's largest organ and that it absorbs 60 per cent of what we put onto it, it's best to pick skincare that is as pure and safe as possible. There are many benefits to using organic or natural skincare. One of the main benefits of using natural or organic skincare products is that they're safer for your internal health and body. Many of the pesticides and chemicals used in non-organic farming have been linked to serious health concerns like hormone disruption and even cancer. And many of the synthetic, non-natural skincare ingredients used in conventional skincare have been linked to serious skin irritations and other major health concerns. Organic and natural skincare is often naturally non-irritating, as it doesn't contain harsh chemicals or traces of other allergen-causing ingredients. Choosing organic and natural skincare is not only safer but also more effective. Without harsh chemicals or filler ingredients, natural and organic skincare is more beneficial for the skin as it contains higher amounts of all-natural, skin-loving ingredients. Plus, you're doing your bit for the environment. Natural and organic, or organic certified, skincare is made without harsh chemicals which helps protect delicate soils, wildlife and our natural waterways. What's more, many of the natural and organic skincare brands out there tend to also care about producing ethical and cruelty-free products. Choosing organic and natural skincare, automatically makes it easier to find skincare brands that are also vegan-friendly, not tested on animals, ethical and eco-conscious.




Top organic skincare and natural skincare brands
There are so many amazing organic skincare and natural skincare brands out there. Here at Sassy Organics we only stock brands that we know, love and trust ourselves. Here are just five of our top organic and natural skincare brands to get you started.
1. Antipodes – top certified organic skincare
Antipodes is a New Zealand clean beauty brand with a Green Beauty Ethos™ – meaning, it uses certified organic, sustainable and plant-based ingredients from the fresh, abundant New Zealand landscape. Antipodes' Antipodes Scientific Green Beauty™ approach involves combining rigorous, trusted science with the natural power of plants to produce clean and thoughtful formulations that actively improve your skin and protect your inner health.

2. Ethique – top natural & eco-friendly skincare
Ethique is a pioneer in sustainable beauty and living. Specialising in solid beauty, house and skincare products, Ethique is 100 per cent plastic-free, climate-positive and plant-based. Ethique is committed to natural products and ingredients, choosing only plant-based ingredients that are safe, sustainably produced, biodegradable, cruelty-free and palm-oil-free. Ethique products are plastic-free because they're water-free. Meaning, your skin will benefit from higher, undiluted plant nutrients and skin-loving ingredients.

3. Vanessa Megan – top certified-organic, luxurious skincare
Vanessa Megan is a skincare brand with over twenty years of experience in crafting certified organic, skincare formulations. Vanessa Megan's philosophy is that "you should never put anything on your skin you wouldn't eat", which is why her products are entirely natural and free from synthetics and chemicals. Vanessa Megan has cultivated a glossary of plant and botanical ingredients that are found across the range and are combined to target skin concerns and produce visible skincare results.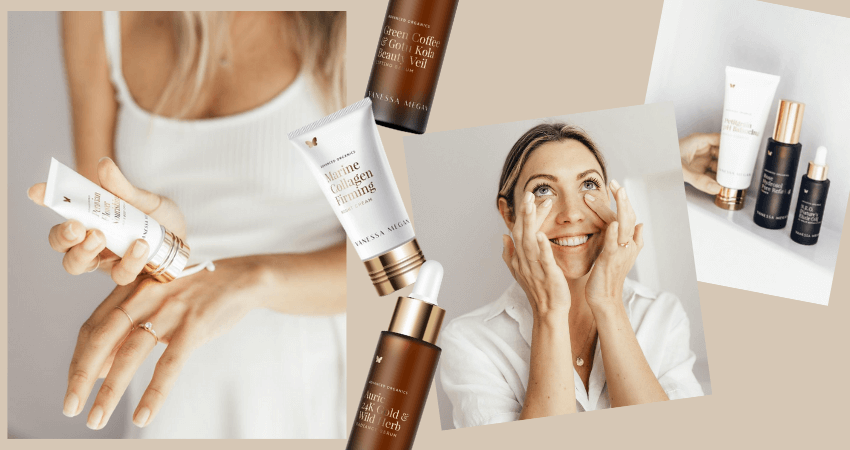 4. Acure Organics – top organic, everyday skincare
Acure Organics sources the highest quality ingredients (many of them also organic) for your skin without any parabens, sulphates and other nasty chemicals or fillers. They're the no-fuss natural and organic skincare brand that makes switching to natural and organic skincare effortless. Acure has several ranges to suit your specific skin type, concerns and goals. And each one is formulated with super-nutrient ingredients, is cruelty-free and "100% vegan, 0% pretentious".

5. Black Chicken Remedies – top organic and certified organic skincare with naturopath formulations
Black Chicken Remedies was founded by Chey Birch in Bondi, over twenty years ago. Chey formulated her own essential oil and therapeutic botanical extracts at home as alternatives to chemical-full conventional ones. Twenty years later and her nutrient-dense, water-free and entirely natural formulations are now helping thousands of people switch to safer, chemical and toxin-free skincare products. Black Chicken Remedies' skincare ingredients are mostly certified organic and plant-derived, focusing on formulas that improve the skin, mind and body's wellness.
Useful links to learn more about organic products
For more information on organic certified products and regulations, you can visit the following websites
RECOMMENDED PRODUCTS
---