The healing power of herbs
Date Posted:30 September 2021
---
Herbal teas are a beautiful way to add vitality, health and antioxidants to your daily routine. Comforting and warming, a good herbal tea blend can do everything from promoting restful sleep, aid digestion, tonify the liver and provide antioxidant support for glowing skin and healthy ageing.
What is the difference between black tea and herbal tea?
Firstly let's define tea. Tea is a beverage prepared using the fresh or cured leaves of the Camellia sinensis plant – an evergreen shrub that's native to China and East Asia. Black tea is more oxidised than other types of tea like oolong, yellow or white. For this reason, black tea tends to have a stronger flavour, more caffeine and a darker colour. There are many types of black tea like Earl Grey tea or English breakfast tea. Earl Grey tea is a blend of regular black tea that's been flavoured with bergamot oil. English breakfast tea is a blend of black tea (leaves) but not with added bergamot or other flavours – it tends to be full-bodied and enjoyed with milk and sugar.
Herbal tea, despite being called tea, is technically not tea. Although it's a lot easier and commonly accepted to call herbal tea, tea. Herbal tea is made from a large number of herbs, dried flowers and other plant matter. Herbal tea tends to be loose leaf tea and is great for remedial purposes. It's also caffeine-free and smells amazing.
What kind of tea is herbal tea?
Herbal tea describes a hot water beverage made from a blend of herbs, spices, and dried plant matter. If you're looking for herbal teas Australia then you've likely heard of the Australian tea brand Organic Merchant. Organic Merchant specialises in loose leaf tea with plenty of benefits for your health and wellbeing. A loose leaf tea is essentially tea that is not contained within a tea bag but is instead packaged as a blend that can be scooped into a tea infuser or tea strainer. Many believe that loose leaf tea is of better quality than the tea in tea bags as it's often less processed, retains it's aroma better and is, therefore, stronger in healing properties. At Sassy Organics we stock a huge range of Australian Tea, with a focus on herbal teas Australia that uses the powers of Australian natives and botanicals. You might like to try Organic Merchant's Australian tea blends which use ingredients like wattle seed and Tasmanian pepper. Some of the most common herbal teas that you've probably heard of are chamomile, lemon balm, ginger, rooibos, and peppermint.
Which herbal tea is best for you?
Shopping for herbal teas Australia is easy when you know what to look for. A good herbal tea will have a beautiful aroma that's inviting. If it's a loose leaf tea, the leaves should unfurl in your hand slowly and feel smooth and sturdy to the touch. Deciding which type of herbal tea is best for you depends on what you want to use herbal tea for. If you want to use herbal tea for relaxation and calm then we suggest drinking chamomile tea – best enjoyed at the end of the day. Or, if you're looking for a tea with natural pain-relief and immune-boosting properties then you can try a ginger tea. Many people like to use teas to aid digestion and reduce bloating. We always recommend drinking peppermint tea for better digestion and gut health. You might have also heard that some loose leaf tea can boost energy, naturally. For this, we recommend using a tea with ginseng and lemongrass. There are as many herbal teas as there are health and lifestyle goals. The best method for finding the best herbal tea is to try out a few and see which works best.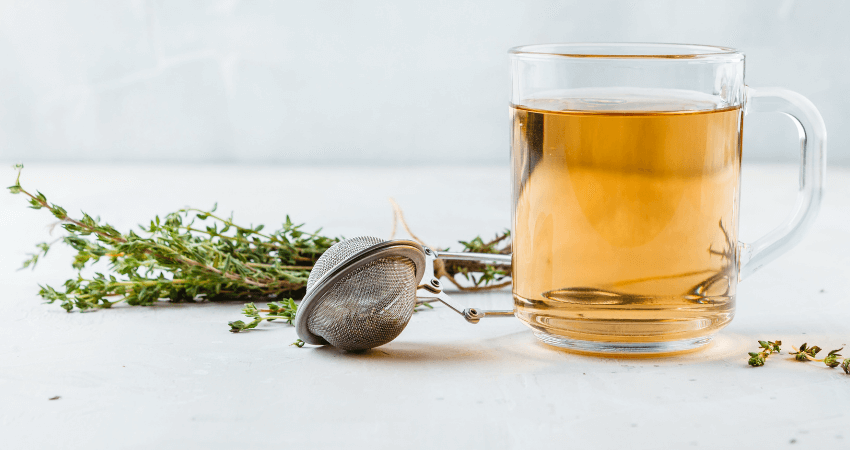 Is it OK to drink herbal tea every day?
Yes. It's safe to drink 1-2 cups of herbal tea a day. In fact, some studies have shown that regularly drinking herbal tea can help fight disease and infections, reduce the risk of chronic conditions and protect against stress. However, you can drink too much herbal tea, which can lead to headaches or nausea – but it does take a lot of tea to reach this stage.

Is it OK to drink herbal tea while pregnant?
Good question. It depends. Many women actually choose to drink certain herbal teas like raspberry leaf tea during pregnancy to aid with morning sickness symptoms. Many herbal teas are safe to drink while pregnant or breastfeeding but it's always good to limit your intake to 1-2 cups per day. You should always speak to your healthcare provider about your diet and lifestyle choices when pregnant and breastfeeding.
How do you make herbal tea?
Herbal tea tends to come as loose leaf tea. This means you need to use a tea strainer to ensure that you get the infused hot water without the actual tea leaves. To make a good cup of loose leaf tea, you'll need to add about 1 teaspoon (or the amount recommended on the packaging) of loose leaf tea to an infuser and then let that infuser rest in a cup of boiled water for at least five minutes. Alternatively, you can add the tea to a cup of freshly boiled water and leave to steep for five minutes and then drain it through a tea strainer into another cup. A tea strainer or a tea infuser are used to catch the little herbs and leaves so you can enjoy a smooth herbal teak drinking experience. To make iced tea from loose leaf tea, you simply repeat the above processes but leave the tea in the fridge for several hours and enjoy it over ice.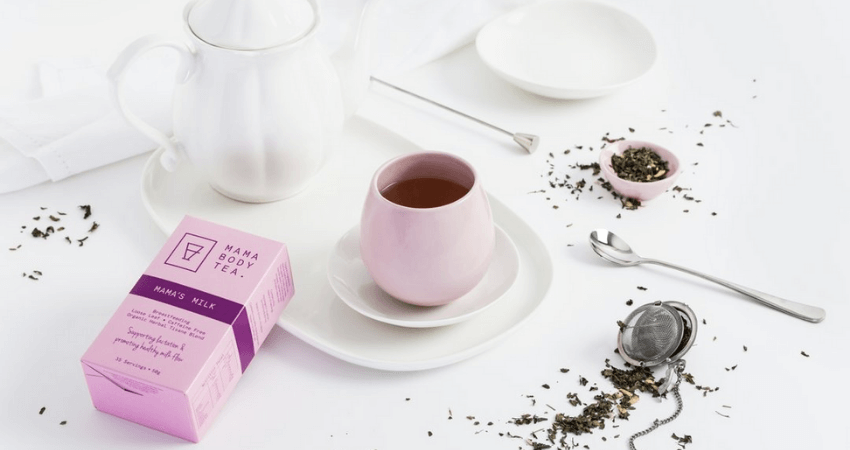 Which tea is best for sleep
One of the most common uses for herbal tea is relaxation and sleep. In the evening, founder Aida loves to curl up on the couch with a relaxing sleep tea. It is important to allow your body to switch off and unwind before sleep. Too many people watch and use screens right up until sleep, which can be hard to avoid but it's not good for our body's natural sleep cycle. One of the best herbs for sleep tea is chamomile. Chamomile tea is made using the herb, chamomile, which comes from daisy flowers. It has a nice earthy, sweet taste and is very soothing as a hot drink. Other herbs that make good sleep tea include lavender, valerian, lemon balm, passionflower and lemon verbena. These herbs are naturally calming with sedative properties. The beautiful thing about using natural sleep remedies like sleep tea is they help to lull your body into its natural sleep cycle, and as such, leave you feeling refreshed in the morning rather than tired and groggy. You can use chamomile tea in its pure form or as a blend. One of our favourite brands for herbal tea blends that are easy to use, all-natural and pure is Mama Body Tea. Mama Body Tea specialises in teas for women's health but has a range of other loose leaf tea and herbal tea bags to supercharge your wellbeing. The Mama Body Tea Sleepy tea uses organic chamomile, valerian and passionflower with lavender and verbena. It tastes and smells amazing – perfect for at the end of a long day.

Which tea is good for digestion and bloating?
Herbal teas can be a great way to naturally aid in digestion, reduce bloating and stimulate better absorption of nutrients. Digestive herbs tend to help digestion through their slightly bitter taste. When your body tastes something bitter, it triggers the release of digestive enzymes to help to break down your food. This in turn will decrease symptoms of fullness and bloating that some people experience after meals. Bitter herbs are also beneficial to the liver, which helps to cleanse and detoxify cells and promote a healthy digestive system. The best herbs to increase digestion and cleanse the liver include liquorice, fennel, peppermint, dandelion and nettle.
RECOMMENDED PRODUCTS
---