Stay safe this summer with organic and natural sunscreens
Date Posted:8 October 2021
---
Natural sunscreen is crucial to protecting our skin and health all year long. But not all sunscreen is good for our skin. Chemical sunscreens can be harsh, irritating and cause breakouts. Natural and physical sunscreens are the best way to stay sun safe during the warmer days and beyond.
Why should we use sunscreen?
Natural sunscreen is essential to protecting our health and skin. When outside, the UV rays produced by the sun can damage our skin and cause sunburn. Continual sun burn can lead to skin cancer or more permanent skin damage like discolouration and sunspots. Another main reason we should use sunscreen is to prevent the early signs of ageing. You might not know it, but sun damage is one of the leading causes of wrinkles and fine lines on the skin. Sunscreen is one of the most important steps in any anti-ageing skincare routine. Although sunscreen is important, it's not the cure-all. Wearing a broad-brim hat and avoiding direct or long sun exposure is also important when it comes to staying sun safe. Many Australians only wear sunscreen and sun protection in the summer, but the UV rays can be strong on even cool, cloudy and overcast days which is why it's important to use sunscreen daily and regularly.
Physical vs chemical sunscreen
Chemical sunscreen settles into the skin, absorbs UV rays, turns the rays into heat, and then releases them from the body. Physical sunscreen, however, sits on top of the skin's surface and reflects the sun's rays. Physical sunscreen Australia tends to use minerals like Zinc oxide as their main active ingredient. One of the main decisions you'll have to make when choosing a sunscreen is physical vs chemical sunscreen. Chemical sunscreen is typically more lightweight and non-sticky but can irritate sensitive skin types. A physical sunscreen can be thicker but is great for sensitive skin types. Physical sunscreen is also great for those wanting a natural sunscreen as, if you choose the right one, it won't contain any chemicals. In addition to choosing natural sunscreen, you might like to opt for organic sunscreen. Organic sunscreen ingredients are farmed in organic conditions, without the use of herbicides, pesticides and other chemicals. Using organic sunscreen that's also physical and natural ensures no chemicals will be sinking into your skin.
One of the concerns with chemical-based sunscreens is chemical-induced breakouts. Chemical induced breakouts from sunscreen occur when our body tries to remove the sunscreen from under the skin, resulting in pimples and bumps in the process. Physical sunscreen Australia can be a great option for those with acne-prone skin. SunButter makes its physical sunscreen butter from coconut oil and Zinc. The coconut oil is acne-safe as it balances out the drying effects of Zinc, so you'll never find it too oily. Your choice when it comes to physical vs chemical sunscreen will depend on what works for you. But if you're looking for physical sunscreen Australia, then shop our range for vegan, natural and non-greasy formulas that work.
What does SPF stand for?
SPF stands for sun protection factor. SPF is a measure of how much UV gets through the sunscreen barrier to your skin. So, SPF 50 means one-fiftieth (5%) of the UV gets through. 95% of the UV rays are blocked. SPF 50 is one of the higher factors on the market and is particularly suited to the Australian sun, especially in warmer months. Skin specialists recommend using SPF 50 every day during the sunnier Australian seasons, but you can choose to use a lower factor during the cooler months. One important thing to note when choosing your SPF is whether it's also broad-spectrum protection. There are two types of UV rays: UVA and UVB. You want a sunscreen that protects against both – this is critical. So look for labels that say 'broad spectrum' or 'AVA/AVB protection'.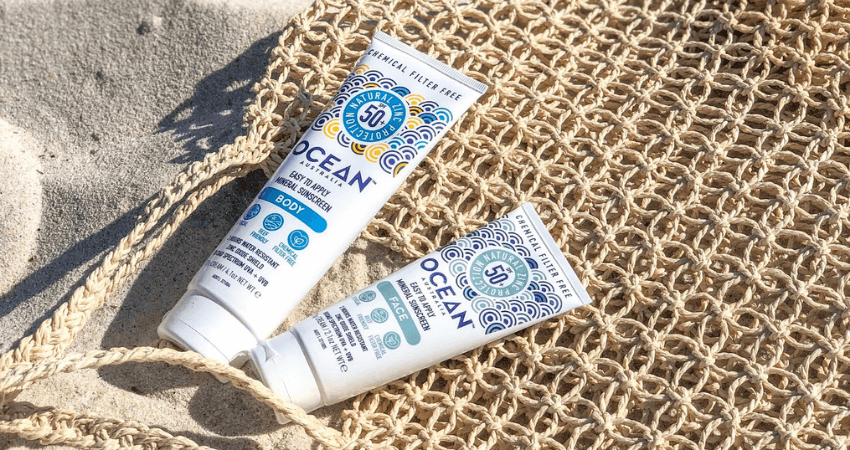 Which is best natural sunscreen Australia?
So, you're ready to pick a natural sunscreen for the summer and beyond? Most natural sunscreen is a physical sunscreen, meaning it has that mineral Zinc to protect you from the rays. For this reason, many people worry natural sunscreen will give them that pasty white look on the skin. Our range of natural sunscreen and Physical sunscreen Australia have been selected for their non-greasy, lightweight and invisible formulas. If you want a natural sunscreen with SPF 50 then we recommended the Ocean Australia range as all their sunscreens are SPF 50 and suited for sensitive skin – choose from face, body or kids sunscreen. Looking for natural, face sunscreen Australia? The Eco by Sonya vegan sunscreen is natural and perfect for sensitive and acne-prone skin. We recommended this Eco by Sonya vegan sunscreen to those looking for the best face sunscreen Australia – one that's non-greasy, won't cause acne and can be worn alone or under makeup.
Is 30 SPF enough for face?
You might be wondering: is 30 SPF enough for face? Dermatologists recommend using sunscreen with at least SPF 30 for your face. When applied properly, SPF 30 will be enough to protect your face from sunburn and sun damage. However, not everyone applies sunscreen regularly enough (every 2 hours, or after you've been in the water) and they may not apply enough to begin with. For this reason, it is safer to choose a higher SPF like SPF 50, especially on high UV days.
Does SPF 15 do anything?
According to the Skin Cancer Foundation, using SPF 15 sunscreen everyday can reduce the risk of squamous cell carcinoma (the second most common skin cancer) by approximately 40%. SPF 15, when worn daily, can also reduce the risk of melanoma (the most serious skin cancer) by 50% . SPF 15 is not enough on medium to high UV rays and certainly not enough protection when you plan on spending a long amount of time outside like in summer or on holiday. If you want a daily, low UV rays SPF then choosing a moisturiser, bb cream, or foundation with added SPF can be a convenient option.
What are the top 5 sunscreens?
1. Face sunscreen
Eco by Sonya vegan sunscreen is the best face sunscreen Australia we've tried at Sassy Organics. The formula has broad-spectrum SPF 30, leaves no ghost-white finish and feels like nothing on the skin. This face sunscreen Australia also has active skincare ingredients like watermelon seed, cucumber and sunflower which make it perfect for all skin types and great for using before foundation or mineral makeup.

2. Non-white sunscreen
If you have a darker skin tone, it can be hard to find a sunscreen that doesn't leave a white cast. Due to popular demand, SunButter made its vegan sunscreen balm in a tinted formula for those who want a bronze tint or a better shade match to their natural skin tone.


3. Kids sunscreen
Ocean Australia Kids Sunscreen is a great option for little ones. Not only is the formula broad-spectrum SPF 50, but it's also perfect for kids' naturally more delicate and sensitive skin. This kids sunscreen has no active chemical filters and is paraben, fragrance and oil-free.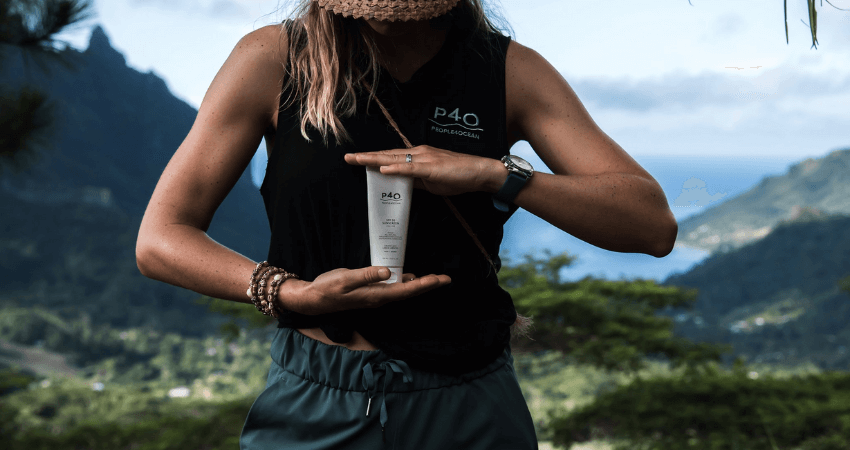 4. Reef safe sunscreen Australia – vegan sunscreen, People4Ocean
Looking for reef safe sunscreen Australia? People4Ocean or P4O sunscreen is not only reef safe but dedicated to helping protect and heal our precious oceans. Many chemical and conventional sunscreens wash off in the sea, which can kill coral reefs, fish and other marine life and plants. P4O reef safe sunscreen Australia is organic, vegan and tested for its reef safety. Plus up to $1.00 from every purchase of People4Ocean sunscreen is donated to reef conservation.

5. Sunscreen makeup
Wotnot Prime and Protect and Wotnot BB Cream both combine sunscreen, skincare and mineral makeup. The untinted primer is great for wearing as a primer moisturiser alone or under makeup. It has SPF 30, UVA and UVB protection, and is packed with age-defying skincare ingredients. This is the solution to getting your SPF on daily without recking your flawless foundation look. The Wotnot BB Creams have broad-spectrum SPF 40 and add mineral makeup pigment to the formula so you can enjoy more even, glowing skin with your daily dose of SPF. These bb creams are perfect for summer days where you want light makeup but still need sun protection.
RECOMMENDED PRODUCTS
---