Top 5 plastic free products for men
Date Posted:22 July 2021
---
Plastic-free products are a great way to do your bit for the planet while enjoying all the benefits of quality skin and hair care. From beard shampoo and beard oils to shaving soap and safety razors, you can easily renew your daily wash and ready routine for sustainability. Read on to discover, natural and plastic-free alternatives to all your men's grooming essentials.

Why choose plastic-free products
We live in a plastic world, but it's no secret that this useful material is a serious polluter. Plastic is not only made from fossil fuels—a contributor to climate change—but also ends up in landfills, natural waterways and oceans. As plastic takes hundreds, even thousands, of years to break down, this plastic waste accumulates, leaches toxins and kills our marine and animal life.
On average we Australians use 130kg of plastic per person each year. And in the year between 2017 and 2018, we used a total of 3.4 million tonnes of plastics. Despite being considered one of the most wasteful countries in the world, Australians across the country are now looking to reduce their plastic consumption and waste. One of the simplest ways you can cut down on unnecessary plastic in your life is using plastic-free personal care and grooming products. Plastic-free personal care products tend to either be water-free solid bars, contained in reusable glass containers or tools made of aluminium and steel. Here are five of our top plastic-free products for men to get you started.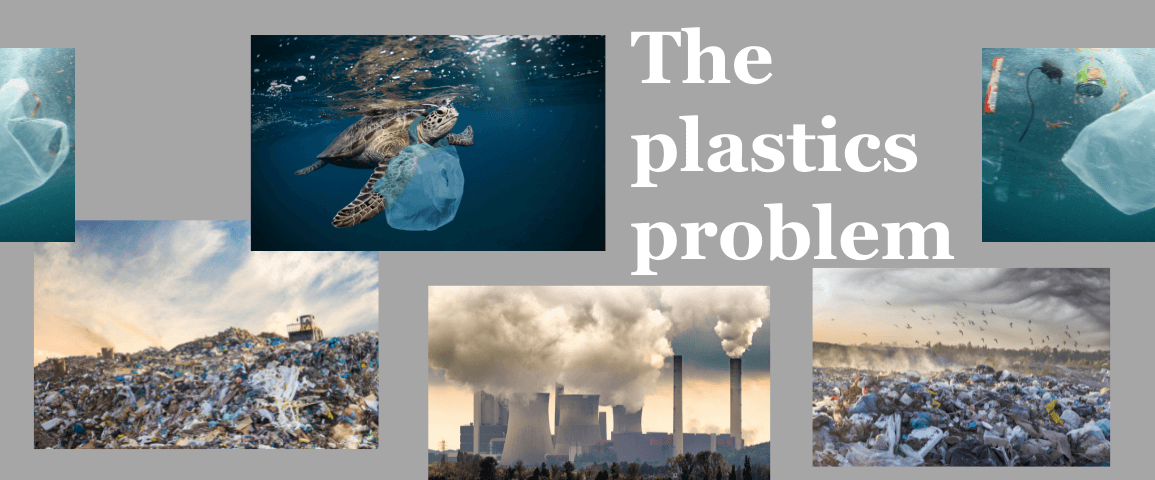 Plastic-free shaving essentials

1. Shaving soap
Shaving soap is not like everyday hand soap and it's a must for a cut-free, clean shave. A shaving soap creates a stable lather, is slick to let the blade glide easily, and is hydrating and naturally antiseptic to protect the skin while shaving. We recommend the one from The Australian Natural Soap Company as it ticks all the shaving soap boxes and then some! Think moisturising plant oils like coconut, macadamia and grapeseed that reduce nicks and cuts, and leave the skin soft and smooth. Not to mention essential oils ginger, rosemary and rosewood oils for a natural fragrance without harsh chemical perfumes. This shaving soap is water-free which means it's a solid bar and therefore eliminates the need for unnecessary plastic bottles.

2. Safety razor
A shave is only as good as its razor. But it's estimated that 2 billion razors get tossed out each year in the US alone. Luckily you can say goodbye to plastic waste and expensive blade refills with a reusable safety razor. The Ever Eco Safety Razor in the black matte alloy is a customer favourite as it makes for a sleek addition to any bathroom. A reusable safety razor will give you a safe, close shave using double edge safety razor blades without throw-away plastic handles and heads. A reusable safety razor is one of those reusable products that leave you wondering why we even have the plastic version at all.
Plastic-free body and wash products
While a beard shampoo might seem gimmicky at first, they're essential to reaching those beard growth goals. Facial hair is different to the hair on your head: it's called androgenic hair and is directly influenced by hormones. Your beard hair needs as much moisture as possible to remain looking full, healthy and not bristly or frizzy. Good beard shampoo will gently cleanse while protecting your natural hair oils and locking in moisture. Although many beard shampoos are diluted with water and therefore come in plastic bottles you can shop concentrated, solid and plastic-free beard shampoos instead. Not only are solid shampoos plastic-free, they also mean you're no longer paying for water, the product lasts longer, and the active ingredients aren't diluted, making it more effective. We love the Australian Soap Company's Beard shampoo for all these reasons.

4. Beard oil
If you're not using beard oil then this is your sign to start now, especially if you want to up your beard growth game or achieve that enviable, thick beard. Beard oil is, as it sounds, a combination of nourishing plant oils that moisturise and soften both your beard hair and the skin beneath your beard. Massaging a beard oil into your beard or along your jawline will help stimulate blood flow and nourish the hairs to promote growth. Beard oil will also add shine, reduce brittleness and create a fuller looking beard by conditioning scraggly hairs. Plus it makes your beard smell amazing which can only be a good thing. We love the Black Chicken Remedies one as it combines only 100% natural ingredients and essential oils including vitamin E, organic jojoba and lime for a lightweight but effective beard oil that prevents frizz, creates softer hair and boosts beard growth.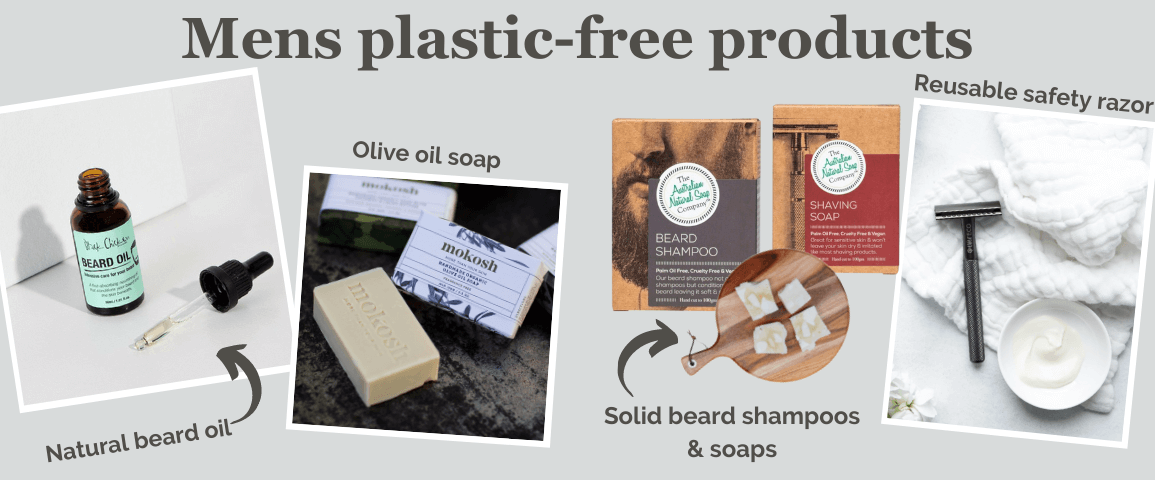 Plastic-free body care
You're probably used to using a shower gel or shower soap for your daily wash. But these products are usually full of water and come in single-use plastic bottles. Plus, many on the market contain harsh soaps, SLS and other sulphates and parabens that make the product cheaper but worse for your skin and the environment. Olive oil soap is mother nature's natural body wash. A good olive oil soap like the Mokosh Certified Organic Olive Oil soap will contain very little else but pure olive oil. This natural plant oil is packed with vitamin E, A, antioxidants and natural cleansing properties. Using olive oil soap as a body wash is great for achieving softer, better-looking skin after your daily shower. It's also great for sensitive skin.
The plastic pollution crisis can't be solved alone and there's no denying that big, system changes are needed. But that doesn't mean you can't empower yourself and do your bit to protect mother nature. If you can, or wherever you can, making little swaps to plastic-free men's grooming products is a great way to protect our planet and benefit from natural skin and hair care.

RECOMMENDED PRODUCTS
---
---
Leave a comment