15 uses and benefits of jojoba oil
Date Posted:5 February 2021
---
Jojoba oil is a powerful skincare ingredient that can rejuvenate, heal and visibly improve the skin, hair and nails. Discover how you can use this miracle oil in your daily self-care routine.
What is Jojoba oil?
Jojoba oil s the liquid wax esters found in the seeds of the jojoba shrub. Jojoba shares the same molecular structure as the wax esters in our skin – making it the closest thing to our skin's natural sebum/oil. Jojoba oil has a light texture and often looks golden yellow in colour. This powerful skincare ingredient can be found in countless skincare and haircare products thanks to its versatile nature.
Is Jojoba oil good for your skin?
In short, yes! Because jojoba oil is so like our natural oils, it can penetrate our skin's deep layers and repair it at the same level as our natural oils. As we age, we naturally lose wax esters in our skin, leading to drier skin and wrinkles. Jojoba oil is the only known plant source of wax esters that can replenish the ones our skin has lost.
Jojoba oil contains many different vitamins and nutrients. The golden liquid is rich in Vitamins A, D and E, antioxidants and essential fatty acids. All these combine to provide a unique, all-natural formula for anti-aging and long-lasting nourishment. Jojoba oil is naturally gentle and non-irritating, making it perfect for just about every skin type. Yep, don't let the word 'oil' scare you; this stuff is ideal for balancing oily skin, hydrating dry skin, and calming sensitive skin.
Although there are many different jojoba oil benefits for the skin, that's not all it's good for. You can also use pure jojoba oil on hair and nails. Read on to discover 15 jojoba oil benefits and uses.
Jojoba Oil for the face
Use: A gentle makeup remover and cleanser
Thanks to its antimicrobial and antifungal properties, jojoba oil can be used to remove stubborn makeup and cleanse the skin. You don't need to use a jojoba oil cleanser; you can simply apply the oil directly or with a cotton pad. Just massage it gently and wash with warm water.
Benefit:
Jojoba's antimicrobial properties can help prevent breakouts in those with acne-prone skin. The hydrating formula is also ideal for dry skin types. Oh, and did we mention it nourishes your eyelashes at the same time…win, win.
Use: As a pure face oil or an addition to a moisturiser for dry or mature skin
You can apply pure jojoba oil straight onto your skin after cleansing. Or you can mix it into your moisturiser right before using – for an added pump of hydration. Just be sure your moisturiser is an oil or emollient-based product.
Benefit:
Jojoba oil provides long-lasting hydration for drier skin types and helps brighten a dull complexion. Mature skin can benefit from the wax ester regeneration that reduces the appearance of fine lines and wrinkles.
*Tip: If you're looking to apply the oil directly to the skin, then try a powerful blend of rosehip and jojoba oil like this one.
Use: To heal and rejuvenate lips
Jojoba oil can be applied directly to the lips before applying lip balm, and it can be used to help those prone to cold sores.
Benefit:
The fatty acids in jojoba oil will soften and protect the lips' outer skin layer – preventing them from drying out. When the tingling feeling arises in cold-sore prone lips, Jojoba oil can be used to avoid one forming.
Use: As an acne serum for oily or acne-prone skin
If using jojoba oil for acne, simply pat the oil gently into the skin after cleansing.
Benefit:
When over-cleansing is used to combat oiliness, the skin is stripped of its natural oils. As a result, the body often produces more oils to compensate – causing a cycle of overproduction and over-cleansing. Using jojoba oil can help balance the skin's natural oil production cycle. High in omega 6 and 9, jojoba oil can also reduce skin pigmentation and brighten the skin, for an overall improved complexion.
Jojoba oil for skin/the body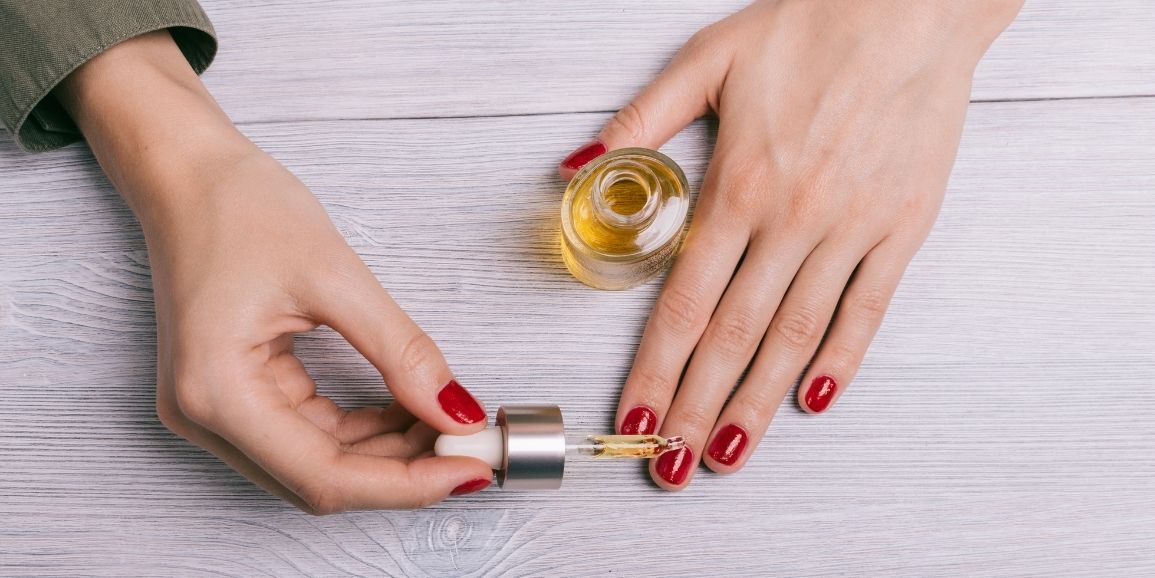 Use: As a body moisturiser
Focusing on sun-prone areas like the neck and décolletage, rub pure jojoba oil into the body straight after showering.
Benefit:
This nutrient-rich oil will help reduce wrinkles and signs of sun damage like age spots.
Use: Before shaving and waxing
Smooth a little jojoba oil on before you wax or shave – and after, if you're prone to irritation.
Benefit:
Jojoba oil can reduce blade friction, irritation, and red bumps from shaving. Plus, it can reduce any redness and irritation caused by waxing.
Use: For a pedicure and manicure
You can apply jojoba oil to your nail cuticles and the nails themselves. You can also give yourself a little foot massage by rubbing the oil into your feet.
Benefit:
Jojoba oil can soften your cuticles and help to strengthen and grow your nails. Plus, this rich hydrator works a treat for reducing rough skin on the hands and feet.
Use: During your self-tanning routine
It can be challenging to get an even tan application, even if you use a high-quality self-tanner. Apply a little jojoba oil beforehand can help.
Benefit:
The oil will hydrate the skin and reduce texture in dry-prone areas like elbows and knees. Meaning, they will be no unwanted dry patches for the tan to 'pick up' or settle into.
Use: As a body scrub/exfoliant
You can mix jojoba oil with some sugar or coffee granules to create a DIY scrub.
Benefit:
The coffee or sugar texture will help remove dead skin cells, and the jojoba oil will help regenerate new ones – creating a softer, brighter, and plumper complexion.
Use: As a natural skin remedy
You can massage jojoba oil into skin with certain conditions like Keratosis, Dermatitis, Psoriasis or asteatotic eczema flareups.
Benefit:
Thanks to its unique molecular structure, jojoba oil is a natural alternative to other prescribed cures for various skin concerns. Jojoba oil can help restore a compromised skin barrier, reduce inflammation, and soothe irritation in problematic skin.
Jojoba oil for hair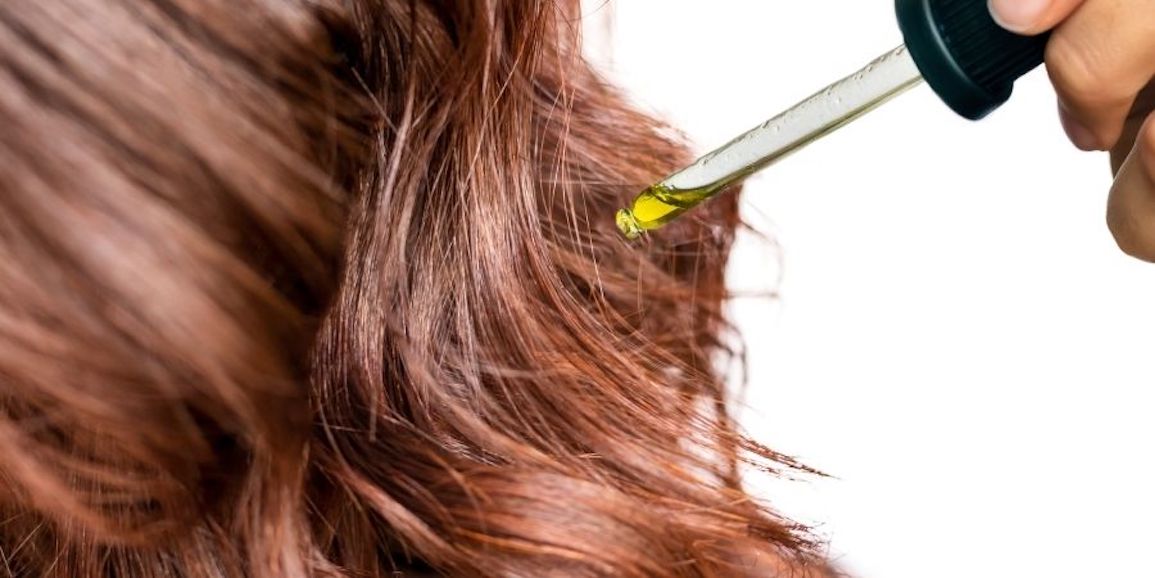 Use: As a defrizz serum
Add a few drops to your usual leave-in moisturiser or heat protectant and rub it into the hair from the scalp's base to the ends.
Benefit:
The molecules in jojoba oil are like our hair's natural oils, so it can cling to each strand and nourish the hair throughout – keeping frizz at bay.
Use: To combat dandruff
Massage the oil into the scalp and wait for 20 minutes before washing if you only get mild dandruff. Or, if you're prone to heavier dandruff, apply it after washing as a leave-in treatment.
Benefit:
Jojoba oil is naturally rich in both palmitic and stearic acid which condition and protect the hair. This added hydration can ease itchy scalp and, with consistent use, prevent dandruff from forming.
Use: As a natural heat protectant
Rub a small amount through the ends of the hair – either towel-dried or dry hair. Let the oil absorb fully before using heat and styling tools.
Benefit:
Locking in the hair's moisture will protect the strands from heat-induced damage, while jojoba's antioxidants will protect the hair from free radicals and air pollutants.
Use: To help grow your hair
Apply jojoba oil regularly as a leave-in treatment after hair washing if you're looking to strengthen and grow your hair.
Benefit:
The vitamins and minerals in jojoba oil like vitamin C, B and Zinc nourish and 'feed' the hair to help the hair tissue grow. They also strengthen the hair follicles, which helps improve hair thickness.
*Tip: massaging the oil into the scalp will stimulate blood circulation and encourage hair growth.
Use: To delay grey hairs
Jojoba oil can be applied to towel-dried hair as a leave-in conditioner to prevent the natural loss of hair colour,
Benefit:
Copper deficiency has been linked to a loss of hair pigment. Studies are currently underway for the use of topical copper to protect against hair colour loss. Jojoba oil is naturally rich in copper and anti-aging nutrients, meaning it could slow the process of pigment loss.
Although the science hasn't confirmed the success of this yet, the strengthening and nourishing benefits alone make it worth a try.
What Jojoba Oil should I buy?


There are (almost) endless jojoba oil benefits and uses, so you're no doubt convinced and want to know how to choose a jojoba oil.
Jojoba oil can be found in many mixed skincare products. But pure jojoba oil is more likely to deliver on the benefits outlined in this post. When buying a jojoba oil, you want to make sure that it's 100% virgin or cold-pressed, as that protects the nutrients inside the seeds. You also want to be sure the oil is liquid and a golden colour at room temperature. 'Lite Jojoba' is jojoba that has been bleached, so it doesn't discolour the products it's used in.
At Sassy Organics, we choose to stock only the best quality jojoba oil from Australia. The Jojoba Company is an Australian brand that produces its jojoba oils from the Wadi Wadi Jojoba beans. Their range features certified organic jojoba oil and powerful jojoba oil blends. If you are looking to use jojoba oil for the face, we suggest the Pigmentation Oil or the Skin Balancing Oil. If you want to try jojoba oil for hair or body, try the pure Australian Jojoba Oil.
You can shop our recommendations below. And we'd love for you to share your favourite jojoba oil uses in the comments!
RECOMMENDED PRODUCTS
---
---
Leave a comment