Health benefits of ULTANA Phytoplankton
Date Posted:1 December 2019
---
What is ULTANA Phytoplankton?
ULTANA Phytoplankton is a multi-strain phytoplankton powder product. Following a decade of research Phytality Nutrition has developed a unique formulation that offers a diverse and complex nutritional profile. ULTANA Phytoplankton combines phytoplankton strains that are high in Omega-3 EPA, anti-oxidants, zeaxanthin & other nutritional carotenoids, vitamins, proteins, minerals and essential nutrients.
In particular ULTANA Phytoplankton offers a premium quality vegan source of Omega-3 EPA. In most other Phytoplankton products sold, Omega-3 EPA is available in only very low amounts (30-40 mg per gram). Ultana offers over 60 mg of Omega EPA per gram, with the additional benefit that the majority of Phytality Nutrition EPA is in the more bio-available "Polar Lipid" form.
Omega-3 long-chain fatty acids (EPA & DHA) in a vegan (plant-based) form are naturally only available from micro-algae. Whilst cold pressed oils from flaxseed, hemp seed, or chia seed offer an impressive nutritional profile, their short chain fatty acids which are of the GLA form. These seed based oils do not have the same bio-availability and nutritional properties as the longer chain EPA and DHA oils. This makes ULTANA Phytoplankton one of the only genuine wholefood, natural, sustainable, vegetarian alternatives to fish and krill oil. This synergistic phytoplankton powder formulation is possibly the most potent natural wholefood on the planet, in terms of nutritional profile and diversity. Phytality Nutrition strains are produced to strict food grade standards in controlled production facilities. They also adhere to strict GMP quality standards such as ISO.22000 certification and IFS International Food Standard certification.
Health benefits
Phytoplankton are known to be the first living single-celled organisms on the planet, so it's understandable why they are so nutritionally diverse. ULTANA Phytoplankton provides a natural wholefood alternative to today's synthetic multi-vitamin offerings. With over 75 essential nutrients it's hard to find any other natural wholefood that offers gram-for-gram the broad spectrum nutritional profile of ULTANA Phytoplankton.
With the additional benefit of every gram offering over 120mg of Omegas, ULTANA Phytoplankton contributes to your daily Omega intake from a sustainable, ethical and safe source. More importantly, it contains a high concentration of these lipids in the more bio-available 'polar lipid' form. Research has shown that Omegas bound to polar lipids are more easily absorbed and digested than other Omega-3 lipid forms. Krill oil is high in polar lipid content, while ULTANA Phytoplankton offers vegetarians and vegans this optimal polar lipid form of Omega without the environmental footprint.
ULTANA Phytoplankton is also unique due to its high content of the Omega-3 EPA long-chain fatty acid. With over 60 mg EPA per 1 gram serve, ULTANA Phytoplankton is recognised as a 'Good Source of Omega-3' under the Food Standards Australia and New Zealand guidelines. Below is a comparison chart which reviews how the ULTANA Phytoplankton compares to with other product alternatives on the market: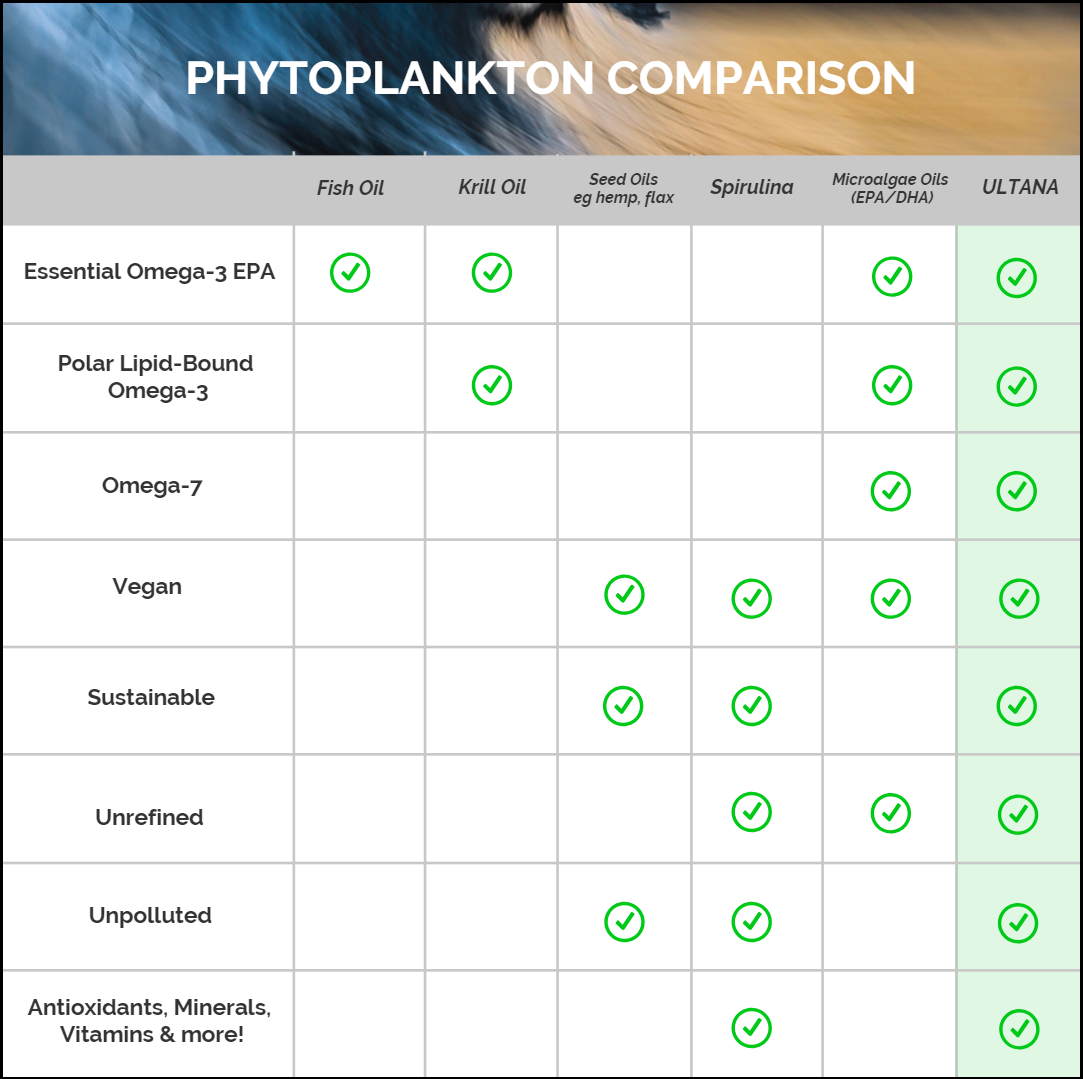 Due to its potent nutritional profile, ULTANA Phytoplankton may support your health in a whole variety of ways including;
✔ Better Digestion
✔ More Energy
✔ Mental Clarity
✔ Healthier Skin
✔ Faster Recovery
✔ Better Vision
✔ Stronger Immune System
Sustainability
Phytoplankton are responsible for creating most of Earth's oxygen, allowing our planet to sustain all plant and animal life. Scientists have confirmed that close to 90% of the earth's oxygen is created by phytoplankton. Phytoplankton absorbs most of the carbon dioxide in the atmosphere, which helps to keep the ecosystem balanced and the planet healthy.
Phytoplankton have excellent photosynthetic properties and are over three times more efficient than other plants in using light. They contain 400 times more energy than any other plant. According to an article in the Yale University Journal of Marine Research, the Earth's phytoplankton store 63 billion kilowatts of power.
Phytoplankton are the base of the marine food chain and are consumed by hundreds of species of krill, which in turn feed many other fish populations. They are a primary food source for the largest and longest living mammals of the oceans, the great blue whale. The ULTANA Phytoplankton product is grown in state-of-the-art controlled facilities, and not harvested from the sea. By not harvesting our Phytoplankton from the sea, we are not competing with marine life for their key source of food. Each time we choose ULTANA Phytoplankton instead of fish for our Omega-3 EFAs and nutrition we are helping to combat overfishing of our seas and supporting the regeneration of the ocean! Phytoplankton not only boosts your nutrition, they are nature's energy source for sustaining our precious planet, Mother Earth!
Innovation
ULTANA Phytoplankton strains are grown in Europe to the highest food standards. Each of Phytality Nutrition individual phytoplankton strain types are grown in controlled production environments. This allows for high purity and consistent premium quality for each of the phytoplankton strains they cultivate. Phytality Nutrition many years of experience in research and development in both technology and marine biology, provides them the ability to produce some of the world's highest quality nutrient-rich phytoplankton strains at a large production scale. Phytality Nutrition believe that controlled phytoplankton production offers substantial improved safety and product consistency over both 'open pond' and 'wild harvested' methods of phytoplankton production and harvesting. In addition their unique phytoplankton cultivation and drying process, provides a powder finish product that has a mild taste and smell, when compared to other phytoplankton products offered in the market. This allows the product to be more easily consumed in powder form, across a broader range of smoothie and food recipes. Enjoy our ULTANA Phytoplankton without the strong plankton smell or taste profile that other products have!
RECOMMENDED PRODUCTS
---
---
Leave a comment