Best natural skin care for sensitive skin
Date Posted:22 November 2021
---
If you have sensitive skin, finding beauty products that don't cause irritation can be difficult. Natural and organic skin care is the best option, especially for those with sensitive skin. However, if your skin is particularly sensitive, even natural products may provoke a reaction. Use this guide to find out the best products for your sensitive skin.
What causes sensitive skin
Sensitive skin is often used to refer to a skin type: oily, dry, sensitive, combination, normal. Sensitive skin type means your skin is naturally prone to inflammation, stinging, burning and irritation. The cause of having naturally sensitive skin is usually genetic – you likely had sensitive skin as a child and found you'd easily react to certain products your parents used. However, people might find that their skin is reacting and acting sensitive for another reason. In this situation, your sensitive skin might be a sign of another, potentially more serious skin condition. Having eczema, rosacea or allergic contact dermatitis could be the cause of sensitive skin reactions. You also might find that your skin sensitivity is the result of an external factor like excessive heat, cold or wind. People with extremely dry skin might also experience skin sensitivity.
How do I know if I have sensitive skin?
With all these possible causes for skin sensitivity, you might be wondering how you know if you have sensitive skin. If you have one or more of any of the following symptoms, you most likely have sensitive skin.
Red and irritated skin

Dry patches of skin

Eczema

Frequent skin breakouts, especially after simply changing your skincare products

Itchy skin

Broken capillaries

Irritation and stinging from fragrance
The best way to know for sure, however, is to get your skin looked at by a professional dermatologist. This is great because not only can they discuss your sensitivity with you, but they can also look at other skin conditions and causes that might be contributing to your sensitive skin.
How do you fix sensitive skin?
How you manage and treat your sensitive skin depends on its causes and severity. Eczema is a common cause of skin sensitivity. Eczema reduces your body's ability to protect your skin from irritants, germs and chemicals. Those with eczema should use sensitive skin-approved products that are non-irritating including hypoallergenic, fragrance-free products.
Rosacea is another common cause of having sensitive skin. Rosacea is a skin disease that often affects the face. People with rosacea tend to experience redness, small bumps and visible blood vessels. If you have rosacea you're likely to use prescription creams and specific products that are formulated for rosacea and redness.
Often, people with sensitive skin experience what's known as 'irritant contact dermatitis which is a red, itchy rash that forms when your outer, protective layer of skin is damaged by something it's come into contact with. This reaction is usually to a specific product. The rash tends to clear up on its own, but it's good to know what caused it in the first place to avoid the reaction again. An antihistamine might be used to reduce irritation, itching and inflammation symptoms.
A less common but possible cause for irritation is 'allergic contact dermatitis which is when your skin hasn't just become irritated by a product, it's had an allergic reaction. Common allergens include soaps, lotions, cosmetics and materials in jewellery. The treatment of allergic contact dermatitis is to take an antihistamine for itching and inflammation and identify the cause so you can avoid it in future. If the reaction is severe, you should always seek medical advice.

Tips for managing sensitive skin
There are some general tips for those with more sensitive skin. Firstly, you should avoid taking long and hot showers – instead, opt for 5 minute/short showers with only warm water. You should also stick to chemical-free, paraben-free and toxin-free skincare ingredients that strip your skin of its natural moisture and are more likely to be irritating. Generally, natural vegan skincare – that's made from only plant extracts, oils and essences – is better for sensitive skin. That said there are still some plant ingredients that can irritate sensitive skin, which is why it's important you look for formulas that are specifically for sensitive skin. Another tip for those with sensitive skin is to use all-natural and organic cleaning products. The chemicals we wash our dishes and clothes with can be a common cause of skin irritation that we might not be considering. All-natural and organic cleaning products are better for your inner health, skin health and the planet's health! One of the most important tips for those with sensitive skin is to keep it hydrated. Jojoba oil is a great oil for those with sensitive skin. Jojoba oil is actually a wax ester and it's the closest one to our natural sebum/skin's oil. This means jojoba oil can penetrate the deeper layers of the skin and provide longer-lasting nourishment. The Jojoba Company is an Australian brand that specialises in Wadi-Wadi jojoba, grown in Australia. The Jojoba Company Calming Jojoba Oil is great for easing irritation and healing dryness. The Jojoba Company has packed this oil with lavender and moringa oil for extra soothing properties.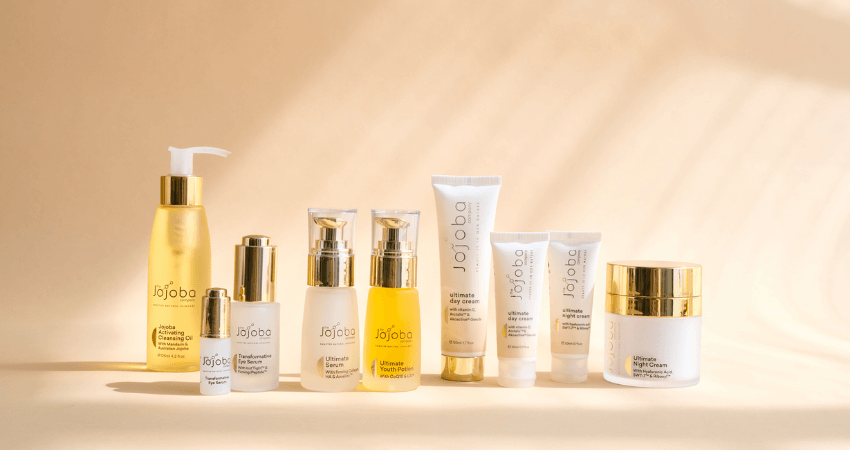 Which product is best for sensitive skin?
As mentioned, the best products for sensitive skin are those that use pure and natural ingredients without the use of harsh chemicals and toxins. There are many all-natural and organic skincare brands that have formulations, especially for sensitive skin. Acure is a family-owned and operated skin care company that was founded on the principle that skincare should be affordable, effective and honest. Acure skincare products are all vegan, cruelty-free and made using only natural and organic plant-based ingredients. The Acure soothing range is specifically formulated for sensitive skin to prevent and soothe irritation. You can use the Acure soothing range for all your skincare needs as it's complete with cleansers, serums, moisturisers and masks.
Another great skincare brand for those with sensitive skin is Vanessa Megan. Vanessa Megan Gray based her skincare brand on her best friend's phrase: "you should never put anything on your skin that you wouldn't eat''. Vanessa Megan skincare is made from the purest plant-based ingredients that are selected for its gentle, skin-loving properties. The focus of Vanessa Megan skincare is to repair and heal skin that has been damaged from the use of conventional skincare, which is why most of their products are great for sensitive skin types. However, the Anti Redness Soothing Serum is particularly good for those wanting to soothe sensitivity.
When it comes to skincare ingredients and products, you can't look past the classic rosehip oil. Rosehip oil is made from pressing rose fruit seeds (or the hips. Rosehip oil is known to balance the skin and calm it. Acure cold presses its essential rosehip oil, as does Every Bit Organic – both can be used on the face and body. If you want to take it a step further, you should look for a pink clay mask. Using a face mask is a great way to treat your skin with more potent and healing ingredients once or twice a week – which is essential for those with sensitive skin. A pink clay face mask is great as pink clay naturally restores moisture and removes impurities from the skin without any harsh exfoliation. The Pink Clay Mask from Butt Naked skincare is great as it contains rosehip oil, lavender and chamomile for extra redness-reducing and skin-soothing.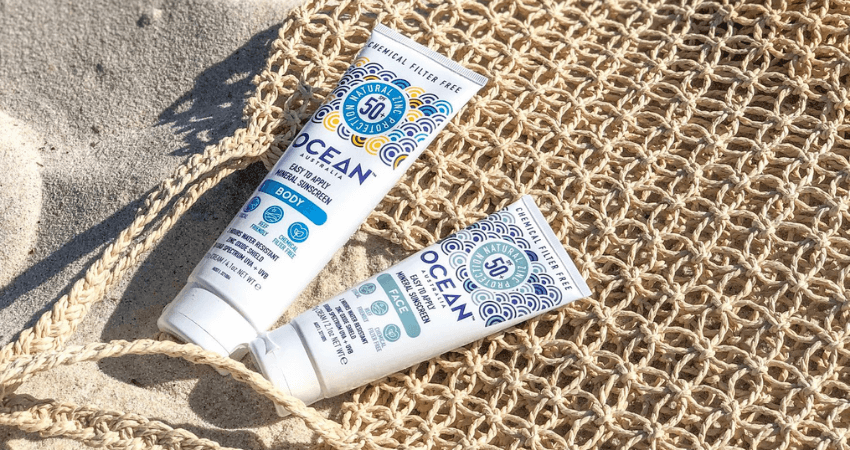 It's important to use a moisturiser both day and night, no matter your skin type. For those with sensitive skin, you'll want to pick a moisturiser that has naturally calming ingredients, as well as ones that alleviate dryness. Chamomile is often used in sensitive skin moisturiser for its cooling and soothing abilities, the same is true for jojoba oil and evening primrose oil.
Sunscreen is important for sensitive skin as you might find you are more vulnerable to extreme sun damage, blistering and burns. However, those with sensitive skin can struggle to find a sunscreen that doesn't irritate their skin. Physical sunscreens are those that use zinc to block the sun, without the use of chemicals – these can be a great sunscreen for sensitive skin. We have plenty of options for sunscreen for sensitive skin. Ocean Australia Natural Body Sunscreen is a great sunscreen for sensitive skin that uses gentle and reef-safe ingredients.
What is the best makeup for sensitive eyes and skin?
With your skincare covered, you might be wondering what makeup you can safely use on your sensitive skin. Like skincare, the best makeup for sensitive skin is makeup that uses natural ingredients and avoids using cheap fillers, toxins and fragrances. When shopping for makeup for sensitive skin, look for organic brands like Zuii Organic as these won't contain irritants like traces of pesticides or herbicides. A bb cream is also great as face makeup for sensitive skin because it contains soothing skin care ingredients as well as pigment to even out your complexion.
RECOMMENDED PRODUCTS
---